My Blog 2019
Autumn
The days get shorter and I reach for the slow cooker, trying as ever may new recipes along with a few favourites We have had a delightful time in Greece with our Greek friends and tried new foods and many new experiences, the sea is beautiful in September having been warmed by the suns rays during the summer. A simple breakfast of Greek yoghurt and honey is all it take sto fill you up with around 20g of protein until a light lunch prior to the aperitif time of an ouzo and nuts by the harbour, are you starting to get the picture. It is so lovely to spend time without the distractions of the mundae daily world of home. We had our wedding Aniversary whilst we wre away which consisted of a wonderful stay at a boutique hotel which my darling husband booked, it was a real treat and we experienced a very different style of traditional al la carte cooking. We experienced a delicious goat dish with home made pasta and garlic yoghurt dressing, the bread and fish was intresting and wonderful. It was a toasted crouton of home made grainy rustic bread, with a mustard layer, horta booked in olive oil and topped off with a fillet of sea bass, a little more of the mustard dressing and a few cubes of potatoes and peppers made this a very pleasing dish on the eye. As a congratulations to us apart from the fact we had a delightul table overlooking the moonlit seascape we were offered a free dessert - my it was a real treat, various textures of chocolate and caramel filled the senses along with the locally procuded wine it was a perfect way to celebrate our anniversary. One of our favourites is still feta in filo drizzled in honey and sesame seed.
July
I have written a food and travel journey through the Mainland of Greece which you may find interesting it combines my two loves of travel and food, take a look at ninageraghty.wordpress.com
June
With life so busy and lots of talks to do, I find I rely on quick home made "fast food" recipes to ensure we eat nutritionally and quite simply. It always seem easier to create a quick grilled meat and veg meal with a drizzle of olive oil on the greenery [ helps the body maximise the nutrients from the veg] and some freshly steamed jersey or cornish new potatoes. The month is starting to warm up and not before time, so condusive to some long evenings in the garden or round at friends.
May
Welcome to May and lets hope its a tad warmer than it has been. My herb garden is now flourishing enough to start using copious amounts in the cooking, something I love to do and am quite passionate about using herbs and spices rather than salt in my cooking. Finally managed to get along to my favourite farmers Market in Stone, Staffs. The stalls provide a wide mix of produce, you can get freshly smoked fish from Lancaster smokery, wonderful grass fed beef from Pimlotts near Market Drayton, artisan bread from London Rd, Bakery, wonderful array of pastry, pies, cheeses and a pelethra of cakes. You really can do your weekly shop here knowing that the food is high quality, and traceable [ in other words you know its background].
A meal out mid month in Eccleshall at the Joules pub was a very nice affair, the food as ever was good, the service cheery yet professional and a real bonus for once I managed to park right outside - ideal as the thunder and ligtening were crashing around us.
Hosted a special birthday evening where despite the strange forecast 9 of us sat out in true Mediterranean style until midnight, lots of laugther, wine and good food and a fly past by the space station [ I had to admit I hadnt arranged that one!]. The large Black Bean Chilli, with avocado salsa, sour cream, brown rice with corainder and freshly made garlic bread seemed to fit the bill perfectly. Puds were home made by a friend, her chickens have the most deightful eggs, so a fresh cream and mixed fruit pavlova was the main eye catching dessert.
April -
Having gone along and visited the Church Eaton Farmers and Craft Market in the Church Institute I was surprised how well supported it was but then also a little sad that the organiser was struggling to get more stalls to take part. It is held on the 3rd Saturday of the month and for an indoor table at a cost of £3 would make a very good opportunity to someone just starting out with a craft, hobby or a genuiune good foodie product. There are certainly gaps for a cheese stall, bacon, sausages ad pies, chocolate stall and in fact quite a few others. I would dearly love this to continue the next market is 16 April. Justin is the organisor, proceeds go to the upkeep of the church institute, so its a non profit making jobbie, if you want to take advantage of a stall, you can contact Justin on jod7117@aol.com or ring 01785 824788.
Towards mid April I attended the Food Ex Farm and Deli show at Birmingham, this is the showcase for new products trying out the trade attendees to seek feedback and critique on any new products before they hit the market place. Lots of powerful buyers from stores and independants wander about with the crowds. I am pleased to say that some products I tried 3 years ago have now become succesful players on the food stage and have expanded their share of the market. It was once again so refreshing to see the passion behind the products of the small independants breaking into the market for the first time, wonderful. Its always a dilemma when people come to offer me a taste of something that isnt particularly healthy, they see the word nutrition and back off, then we have a laugh as my principals are all around Good Food and Nutrition, so especially keen on the providence of food and the ingredients being of a good quality and not padded out with either excess "white noise" white sugar, refined this and that. Hence some of the artisan products were delighful. And one of the highlights of the show for me was the clonakilty black pudding, I can honestly say it was the best I have ever tasted and just wish my dad was still alive to have tried that one. The Spring Fayre at Sandon was a well organised event, some great foody stalls around the grounds, including a rather inspiring street food area, which had the weather have been better would have been busier. Some of the producers I was talking to mentioned that it might have been better to concentrate on the food aspect for marketing purposes whilst still including the Spring Fayre element. As food seems to be a big attraction and might have pulled in a bigger or different crowd. Sandon did a fantastic job and I hope this fayre continues next year, the inspiring icookIndian demonstration was very well received in the marquee and I thoroughly enjoyed it, a little humour and some good tips around not adding spices into hot oil but drop them into cold so you dont burn them before they have let their aromas release was a good one.
March -
Spring is around the corner, but as in previous years the weather tends to give a false impression that its actualy arrived. Mothers day fell early this year, it found us at the Bell in Haughton for one of the best Sunday lunches I have eaten for many years Locally sourced produce was perfectly cooked and enhanced with the imaginative use of butternut squash as an extra vegetable. Between three of us we sampled the Roast Beef, Pork and Lamb. It was one of those meals that you were sorry to finish, thanks Ali and Team for a high class meal.
St Patricks night at the Boat inn was a good night out, background music of the Celtic persuasion coupled with a bursting pub. The first course was in the style of an Irish Breakfast with soda bread, mushrooms in a whisky sauce, potato cake, with black pudding and bacon on it with a guiness sauce and finally half an egg in mayonaise, so you can see all the ingredients of a breakfast were present but with the imagination to turn it into a great starter. The main course was a choice of help your self stews and casseroles and lots of mashed potato with scallions in it , boiled ham and cabbage. All in all a great evening.
Mid month has seen me giving lots of promotion for Mani Blauel especially with their accolade of winning the gold medal for their wonderful EVOlive Oil, stunnig organic product from the Mani region of Greece.
Another stunning meal with our friends Kay and Mark, orange and carrot soup with chunky garlic croutons, preceeded a one pot pork, choritzo and spicy peppers, onions and potato dish. Then for pudding a chocolate hot cross bun and butter pudding, which was the lightest ever. I have subsequently made a version of this for Easter Sunday and I must admit Kays was far nicer than mine. I used an old Delia recipe which was very nice but gave quite a solid dish and personally I prefer the lighter creamier version so I will be tying to get my mits on that in due course.
A quick visit down to Budleigh, by train for once, topped up the happy chemicals in out brains, but just leaves you wanting more as you have to come away again. The weather was kind and the mill at Otterton now under new ownership , was packed with quite a wait for lunch, time was against us so we wandered up to the Kings Arms at Otterton and ate there. As ever it doesnt disappoint and how nice to be with like minded people just out for a walk and good views, no hidden agendas or enlarged egos here just warmth and conversation coupled with good food.
My new portable inducion hob has arrived, opening up a new range of talks to the various groups I deliver them too, I am hoping to be able to replicate some of the Mediterranenean masterclass content in my next round of talks.
February -
AS the weather then in the UK turned to monsoon season, the slow cooker and spice has taken a bit of a bashing, but one of the nicest flavoured meals I have had in a long time was with some friends who live walking distance away from us. Not only did I get to cuddle two dogs, well one more than the other! we had a great evening and the most delicious tagine using local lamb. The flavour really did transport me back to much warmer climates, it is so good that you can try it for yourselves now as I have added "Kays" Lamb tagine recipe onto my recipe pages. Really pleased to have someone else who loves good food and knows the gate to plate journey of their food, to contribute to the website. Thank you for sharing your recipe Kay.
Following a fabulous two weeks in 30 degree temperatures to get the vitamin D levels topped up to tide me through the rest of winter I have returned to a bland, flat grey skied UK! But my soujourn around the Caribbean on Britannia has given me lots of foodie ideas both on and off the ship. The organisation, cooking and presentation of the meals on board never fails to amaze me , you get to experience the pride and passion of the P and O Chefs along with the best sea views. Menus were well planned and carefully designed to build day on day to prevent any great wastage, for example you may have had pheasant or venison on one day, but a starter will then crop up such as game pie on a following day. The soups on board were delicious and inspire a fresh look at those you make regularly, I tried a chickpea and choritzo soup, delicious pureed creamy warming Mediterranean taste about it Presentation is also key an example was a dessert from the Limelight Club - so so moreish
JANUARY - HAPPY NEW YEAR MAY IT BE ONE OF GOOD FOOD AND NUTRITION, WITH A TOUCH OF MEDITERRANEAN INFLUENCE - KALA CHRONIA.
Last Years Blog - 2015
DECEMBER
Lots of cookery taking place both in readiness for the Christmas celebrations, using this year a fantastic Kelly bronze free range turkey from condover and topside of beef from Pimlots near Market Drayton. Its good to know the pedigree so to speak of what you are eating, its fully traceable from field to plate and all the better for that. I was proud to support a local charity, Blood Bikes with a donation from some of the talks I have delivered this year.
NOVEMBER
A trip to the BBC Good Food Show was an interesting and very rewarding event, meeting lots of foodie people with a passion and pride in what they do. rubbing shoulders with some of the great and good of the Chef Circuit was also interesting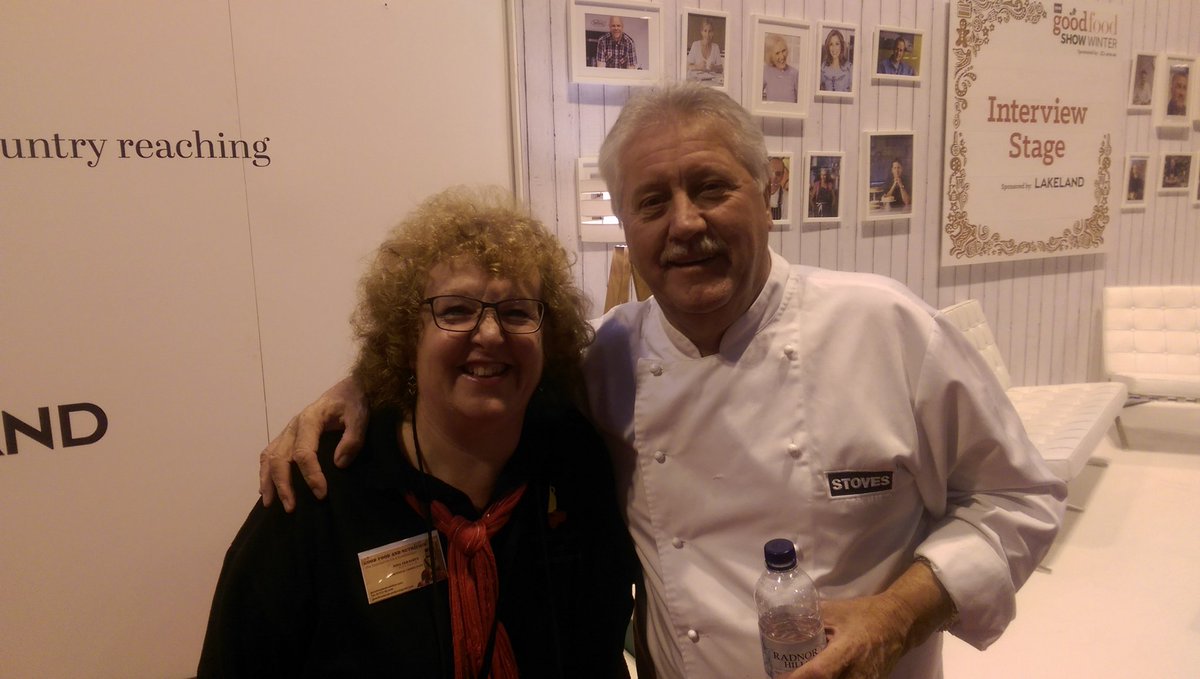 An exciting start to the month being invited to appear on the BBC Radio Shropshire food programme on Sunday 1 November, it was great fun talking local, seasonal and sharing recipes and tasters which I took along for Paul the host to try. They went down very well, the butternut squash recipe [ now on the version 18 !] had the addition of cardamon pods which gave it a warming kick and soon disappeared during the broadcast. It wouldnt be right for me to not talk about my love of Greek food and the influeces that I use from my many times spent in Greece. I made some homemade Lamb Smyrna sausages, a nice cumin infusion with cinnamon and black pepper in , oh and quite a garlic kick too. The aroma filled the studio but they are delicious and a very easy recipe to make into either meatballs, burgers or kebab shapes - very versatile.
I have been designing and tweaking some recipes in readiness for my next round of talks for 2016. I dont use powerpoint so I like to illustrate my sessions with food, must admit it goes down really well and always creates a good discussion amongst the group.
The addiitonal of the seasonal root veg is putting my slow cooker into overdrive and as I type this I have lamb shanks [ British ones] and parsnips, onions and a balsamic vinegar based stock on, the smell is divine. I like to support independant butchers and was quite surprised to visit one over the weekend whom I have had delicious local lamb from during the year to be offered New Zealand Lamb shanks, suffice to say they were not purchased!!
OCTOBER
A flavour of Greece inspired some new recipes which I will be sharing with you in due course. I was invited to visit an organic olive oil production called Mani Blauel in Pyrgos, Messinia, Greece. It was fascinating to see and learn all about the ethos behind their product. If you get the opportunity to try the extra virgin olive oil they produce it is amongst some of the best in the world and a fantastic addition to your kitchen. I brought home some of their olives too, the natural chemistry means that these olives are as good for you as the probiotic action of yoghurt, keeping your digestion in top notch condition.Some of the traditional dishes had taken on a new twist, a favourite [ slightly naughty] dish of Saganaki was cooked in filo pastry drizzled in local honey, sprinkled with fresh thyme from the mountains and sesame seeds, this is one too look out for.
LUDLOW FOOD FESTIVAL
What a great show, I actually took part this year and what a buzz it gave me, I designed and delivered the Mediterranean Masterclasses in the Inner Bailey on Friday 11 September. The classes were really well attended and everyone had a hands on experience of creating the dishes as I demonstrated them. The first session ran from 11am and the sun shone gloriously, in fact the Med came to us on Friday. Lamb Kefedes and Nina's take on Tzatziki formed the first class, the aroma of spices, mint and onion with lamb filled the marquee, in fact passers-by popped in to see what we were cooking. Ian Perry from BBC Radio Shropshire was drawn in by the delicious smell and he came back after the session, on the pretence of interviewing me, I think he actually wanted to taste the food! He did interview me which was broadcast on the Breakfast Show on Saturday morning but he also tried the lamb keftedes and tzatziki and then we were transported over to Greece, a country and it's people,it turns out, we both have an affection for.
The second session was a different take on bruschetta served on spelt crostini, and the third session was my Hellenic taster.
Everyone that took part not only created the dish but we talked about the nutrition behind the food that we used, this is part of my trademark, Good Food and Nutrition.
I would also like to thank Netherton who supplied the fabulous frying pans ad saucepans for the sessions, I was sad to give them back! Also Wenlock Edge water for supplying the water we used during our creativity.
SEPTEMBER
Jam making time again! a glut of plums has seen me beavering away trying to get them into the jars, strangely enough my tried and tested recipe has made a softer set jam this year, so obviously a slightly different pectin strength. Still tastey though and in true country barter time I have swapped a jar for some fresh carrots and green runner beans, so old fashioned but great.
Ludlow food festival preperation, perfecting times etc for my masterclasses occupies the early part of the month and the update on the website which this time I am putting Sept and Oct together, as there is quite a lot of overlap and just because we reach the last day of the month doesnt meant the "in season" products just stop being produced, they need to be used up and replaced with the new foods.
Still catching up with new ideas and recipes to try, a pleasant evening consisted of a very impromptu dinner party for 7 when the planned barbeque couldnt be lit owing to, yes, youve guessed it rain! So slow cooker put in an appearance and chicken and chorizo was created, along with a whole salmon trout from the Stone farmers market, which I stuffed with mint and onions and used butter to cook it on and in.
Dessert was a rather rustic bowl of strawberries, cream, meringues and a notice that said build your own eton mess! That went down very well and was a bit of fun - simple and no preperation for me. The cheeseboard ran along the similar lines with a board marked on in chalk where they cheese was from.
JULY/AUGUST
Blimey the year is really wizzing away. Having visited Borough Market in London, I am most impressed with the passion, people and produce available there. I took the opportunity of taking some photos which if you havent ever been may inspire you to go and see for yourself
There are plenty of hot dishes steaming away to wet your appetite,
or wonderful focaccia to tempt you.
Stalls set out to show the produce off at its best
stunning cheeses
Deli spaces!
wonderful vegetables.
This was the Lunch market so I do need to go back now and visit the full market.
I am really busy with lots more planning going on in readiness for my Mediterranean masterclasses on Firday 11 September at the world famous Ludlow Food Fesitval - hope you are able to cook along with me there. Bookings need to be made in advance on line via the Ludlow Food Festival Website where they will cost you £5.00 [ proceeds to Ludlow charities]
JUNE
With the food and hygiene exams up to date with a good pass rate, I have been talking to many people about the benefits of remembering the hidden vitamins and minerals. Lots of very positive feedback from them and exciting recipes exchanged. The first weekend of June sees my local farm shops food festival, always a great event . Natalie and her team pull out all the stops and have a raft of local producers to share their products and tips with the public - lots of tasters, talking and above all no entry charge - well done Team its a great foodie event.
With the threat of some warmer weather, hopefully the garden produce will catch up and after the average daily temperature of just 9degrees through May, the sun will be nurturing our tomatoes, peppers etc allowing more Med influences to come to the forefront. I am busy preparing for my masterclasses in September and testing my recipes to ensure that they are spot on. Having to tweak owing to the time constraints of the masterclasses.
Foodie meals out will hopefully include some old haunting places, having recently tried somewhere new and had a mediocre meal which certainly didnt have the ambiance to meet the price!
You will see that I hae put June and July together on the seasonal foods, thats because they do tend to cross over a little so rather than deprive you of a full range, as the goods appear on the shelves you can shop and cook accordingly .
MAY
Ludlow spring Festival was a great event, again lots of wonderful producers and a real feel good atmosphere throughout the festival. I went along to check out the masterclasses as I will be hosting my own on Friday 11 September this year. I have now finshed designing my masterclasses and they will shortly be bookable via the Food Festival website. Places will be limited to about 20 people which when you think of the thousands that attend will mean you need to book early.
APRIL
The weather was with us, a few meals out and a fab trip down to the Food and Drink expo at Birmingham, where I met some wonderful, passionate producers. Passionate in the way the their enthusiasm for their product was infectious and I must say of an incredibly high standard. Thank you to you all, which in due course I will mention indiviually however, in the meantime I have been tweeting about you on twitter.
MARCH
A mixed month weather wise, lots of walks taken place and picnics so a good opportunity to make some soups to keep us warm while we are out and about. I must admit a faourite is to use the stock from whatever I have been cooking and today for instance this is ham hock stock to which I have added buternut squash, onion and red lentils, then pureed to a thick warming mass which served with freshly cooked spelt bread is a good filling lunch.
A fab week in Cornwall on the Roseland peninsular where we were just so lucky with the weather, we used a lovely lunchtime stop called the hidden hut above Porthcurnick Beach, it is a hidden gem with homemade food and great service. The view from it is spectacular, and a must if you are walking the coast path. The cooking equipment is a purpose made trailer which enables them to move it to various venues as required. We also had the most exquisite fish and chips from a mobile van called The Atlantic Fryer, I can recommend the lemon sole and the chips are perfectly cooked in beef dripping, naughty but nice!
FEBRUARY
Slightly quieter time on the foodie producing front, been busy experimenting with some new recipes in the slow cooker two of which have worked very well and will be on my recipe pages shortly.
Had some good meals one at the Four Pillars Hotel in Oxford and the other at the Albrighton Hotel, Shrewsbury. Simple styled menu, well sourced food, served with a twist but in some cases simple yet effective.
I had a delicious venison pie in a remote pub in Norfolk, despite it being a weekday night the place was packed and I understand why now. it was Pie night , a range of homemade pies including vegetarian options all generous portions, served with chips and garden pies - a steal at £6.00. The creator of the pies came round at the end of the meal to chat about her pies, such a pride in it that you can see the regular customers remaining regulars! My only disappointment was the fact it was so busy we couldnt sit near the log fire, but the whole place was warm and welcoming
JANUARY 2015
Welcome to a Good food and nutrition 2015, whatever you have made as a resolution or not as the case may be, then just enjoy seasonal local and above all good food and nutrition. My aim this year is not only togive you seasonal information but try and share some nutritional information behind your food choices. I have a busy year ahead sharing my knowledge and having fun whilst doing it. January has kicked off with a delicous meal at the Bell in Haughton where Alison and her team served some stunning meals. I am trying to increase Omega 3 in my diet so I personally chose Cajun salmon on lime infused parmentier potatoes with seasonal vegetables of which I particularly enjoyed the roasted beetroot... its so refreshing to get seasonal vegetables served with a meal.
Wednesday 15 Jan, I am invited to a Virtual Greek Dinner on twitter so I thought I would share my menu here with you;-
Appetiser of Kalamata Olives infused with chilli olive oil
Main Course will be Salmon stuffed with spinach, mint and feta, served on a bed of roasted red peppers and a few plain potatoes
**********************************************************************************************************************************************************************************88
December 2014 and a look back over the year
Having just spent some time in Budleigh Salterton and purchased the freshest fish from the fishermen on the beach, delicious Dover Sole. It reminds me how nice a simple cooked fillet of fish can be, especially when from sea to plate is a matter of three hours. Otterton Mill has got a delightful savoury tea for under a £5 per head which is great value for money. You get a home made cheese scone, pat of butter, pot of homemade chutney and a small slab of cheddar along with a cup of tea - suffice to say a couple of walks along the Otter River tempted us to partake. If you dont do the savoury tea then of course the original Devon clotted cream tea is another choice, and OK I admit we tried that to on a third occasion!!
Stone final farmers market of the year has taken place, it was very well supported and lots of diverse foods available to carry you through to the next market which isnt until February 2015 - we let them have the Jan one off as it is often far too close to Christmas for anyone to even think they are hungry.
Christmas meal planning is well underway and a new recipe I designed whilst away will make an appearance for some friends - once its had its second airing I will put it onto the website for you to try too.
November
Two weeks in Greece have re energised my passion for the Mediterranean diet, given me lots of new material and recipe ideas and reinforced the use of seasonal fresh vegetables. You will find this in my Greek influenced recipes and some of my talks.
Having said that the season for maximising the slow cooker is upo us. What a better way of creating your own ready meals to welcome you home after a day at work or a day out. You can transform the tougher cuts of meat into the most delicious tender meals. This again is utilising the slow cooking facility much as the many Mediterranean kitchens do, maximising the nutrients of the food by cooking themn the ovens with olive oil slowly. The sublime lemon oven baked potatoes at Elli's restaurant in Agios Nikolaos in the Peleponnese I am hoping to recreate on my recipe pages for you to try them.
Mid November - now the stifado recipe I am getting to the point that I will share soon, I have sucesfully recreated the lemon potatoes and they really are delicious. I think I will use them to accompany my venison casserole as that is quite rich and they will cut through well.
August/September/October
Where has the time gone, busy with plum jam making and visitng various eateries around the place. I have spent a couple of days in Dundee and visited the best Tapas bar outside of Spain I can ever remember Sol ySombra, a must visit place formerly known as the Ferry Inn, now normally I dont feel that old tradiitonal pubs transfer well to featured restaurants but this one has really made a very succesful tranisition. Two hours of continual grazing your way aroud the Med can be yours for the sum of £19.95 in the evening [ prices correct Sep 2014] they are so popular they dont have to market its all word of mouth, so as it intends "That Says it All!"
The days are shortening and the slow cooker season is surely back in the forefront of our minds using locally sourced meats, I particulay like the Brisket from Pimlots near Market Drayton They are so proud of their meat they tell you all about it and invite you to call in when they are open and see the gate to plate.
The first weekend in October sees the Stone Food Festival in full fling, well worth a visit. But dont forget that the normal stalls will be in Stone High Street.
JULY
What a fabulous start to the month with some warm weather and all the new Mediterranean style vegetables which are in abundance, the peppers, aubergine, tomatoes - it all brings out the good feelings that accompany the summer. Having auditioned and been accepted by Staffordshire WI as one of their chosen speakers I will now be bookable via their speakers book, booking now into 2015!!! seems a long way off.......
I've been experimenting with some gluten free ingredients including polenta, creating lower sugar cakes which are coming along very well - just contact me if you want the recipe.
Two weeks in Greece late during June has updated my thirst to include more Mediterranean recipes and share them with you, We had some stunning food inluding a delightful traditional local lunch on the small island of Sifnos. Sunday every week on Sifnos sees the locals following a tradition which has passed down the generations and I feel I would like to share the recipe and let you recreate the ambiance that we were lucky enough to sample. For a family [ 6 people] you will need 500g of chickpeas!!!
Chickpea Stew [ Revithia]
Friday night soak some dried chickpeas in cold water
Satuday morning - drain and rinse
Saturday afternoon - place the chickpeas either into a tradional ceramic pot [ Skepastaria] or straight into your slow cooker, add 3 onions thinly sliced, 6 tablespoons of olive oil, a bay leaf or two and cover with cold water.
The proper method is to take your ceramic pot [ personalised with your initials] to the local bread oven, place it in and leave it to cook in the oven till middle of sunday morning. If you dont have access to a bread oven use the slow cooker!!! strange we dont have a communal bread oven in our village!!!!!
Sunday late morning - retrieve the pot, serve with fresh olives, lemon juice, chunks of rustic bread and wine.
We were lucky enough to eat this under the fig trees on long communal tables all coutesy of Maria from Sifnaika Koakia tradtional village in Sifnos- a superb communal event for which I thank her very much.
Mid July has seen me doing a slot on Wots Cooking at the Newport show, a lovely crowd gathered to watch and taste my wares. The rewarding part of this is always sharing my passion for locally sourced, seasonal food coupled with increasing peoples knowledge of general nutrition so they see beyond the item and know what it good it does for their bodies. Lots of questions followed and I thoroughly enjoyed sharing the food and my knowledge and answering the many questions that evolved from my talk.
JUNE
Following a whistle stop trip to Dundee, where I had some rather good food in mediocre surroundings and fairly non commital service. Anyway its still light till 10pm what better excuse than to get out and about, often with food and drinks involved be it eating at some of the great independantly owned restuarants, or grab something from the farmers market or just make a picnic. Already the month has got off to a rather foodie start, The Dog and Doublet at Sandon saw the month in, a rather large choice on the menu so allow yourself time to work through and decide, I must admit I thorougly enjoyed the bruschetta and goats cheese as a started although I do think the flavour of my bruschetta filling is actually better - give it a try its on my monthly recipe pa
Another visit to the Bell at Haughton for their 2 course luncheon for £9.50 - excellent value and no scimping on either service or portions despite it being a lunchtime.
MAY
Wow the nights are lighter the temperature is building a little and there is far more choice in the world of food to start and expand your repertoire. I must mention that I ate at the Bell in Haughton this week and was lucky enough to catch the first night of the summer menu. It is truely stunning, always a good eat there but the choice was imaginative and innovative and the food lived up to its promise on the menu. Seasonally based and locally sourced where possible our party tried the Fresh Crab and Smoked Salmon roulade, potted smoked mackerel with a creme fraiche and horseradish sauce, halloumi on a sweet pepper salad and a mint dressing. Main courses were also delicious the ballantine of chicken with asaparagus, proscuitto ham and wild mushroom sauce was simply stunning, I dont often choose chicken out as I tend to cook such a lot with it anyway but I am glad I did. Belly of pork - perfectly cooked on a seat of boulangere potatoes - again a winning dish. The cracking was crisp but easy to bite. Fresh vegetables and new potatoes really did support the flavours and not detract. Sorry to say we havent yet tried the desserts but then there is so much on the menu to try we will be back..... Great Summer Eat, well done.
Its also the start of the picnic season so why not support your local shops and farmers market and create your own delightful recipes.
APRIL
It really starts to feel better now, the hour has changed so the days are already longer, the gardens are greening up and all sorts of different foods are starting to appear. The farmers markets now start to get more visitors
Weve done a fair bit of tasting different menus at various establishments and whilst the quality is generally very high, there are a few who would benefit from sourcing more seasonally to create the gate to plate ethos. Dont get me wrong I have no problem recreating other contries dishes as part of a menu if that fits the identitiy of the restaurant but if you are a predominantly British Grub establishment why push the boundaries!
March
Now the nights really are drawing out, it makes you feel like being out in the garden and getting your herbs back to edible quality. It seems this year that I hae managed to keep over the winter my Parsley, oregano, lemon blam, thyme, rosemary, chives and mint! that really is a first. I have just repotted them and made a feature of the pots in the corner of the patio so that in the hot summer nights!!!! [ good imaginatiion] you can smell them whilst sitting out sipping a chilled glass of something or other..
I must admit I find nothing nicer than creating a recipe and picking fresh herbs to add to it, rather than my dried stock that I use in the winter. I have also had to re pot my fig, the roots had grown through the pot and it was firmly attached to the soil! so a bigger and better pot has been sourced, its so big and heavy it will now need a crane to lift it!
1/3 = St Davids Day and what a lovely sunny day it turned out to be, perfect weather for the monthly Stone Farmers market, which I must admit is my favourite. All the usual stalls were there, I think more people were there earlier too....Purchases included some fantastic beef from Pimlots, Nr Market Drayton, smoked mackerel and smoked bacon from the Lancaster smokery stall. Bevs pork pie from Stafford , London Rd bakery from Stoke with their low GI seedy bread! [ almost as good as mine - only kidding ] Curry Box Uk, Simon's famous mango chutney [ once youve had this you wont want any other] Debs savoury eggs, I think I have worked my way through all of these now so Deb time for another new creation I think ready for summer picnics! The usual date and walnut cake from the WI stall. I didnt need any more jerk chicken paste from Louis this month as I am only part way through the jar, despite being a little on the heavy handed side with it last week - wow it was delicious but hot, hot hot! If you havent been to this market, note your diary dont bother with breakfast before you go as Pimlots cook their thick bacon and the smell of it cooking greets you so once youve had breakfast, nibble your way along to lunch and buy some goodies and either picnic at Barlaston Downs [ National Trust site with walks] or stay and try a homeade burger or wrap - you wont be disapointed. Oh and for the evening when you are home again take back with you some kalamata olives, feta and one of the local wines on offer - raise a glass and get the Mediterranean diet going, after all its the healthiest one around.
15/3 - the weather has been superb and my thoughts turn to the Mediterranean for one of the healthiest lifestyles known to man.. For those of you who have been to one of my talks I often tell you about how the Med diet has kept me off medication for psoriatic arthritis, and I know that when I follow this lifestyle properly I feel so much better... so I have started to incorporate these ingredients back into our every day diet, during the last week I have experiemented with homemade Greek lamb sausages, Soudzoukakia they were delicious, I served them with wholemeal pasta and my easy tomato sauce. The following night I cooked pork tenderloin sliced and coated with some ras al hanout , which I cooked on a bed of fennel which had a mix of olive oil and lemon juice to braise it with. Mashed celeriac accompanied this. Grilled halloumi with pita bread and some tzatziki dip made a quick meal one evening too.
February
Having partaken of a couple of Sunday lunches out, it is refreshing to find good locally sourced foods on offer in busy but individual restaurants.
The two venues we have visited are Weston Hall Hotel nr Stafford and the Mytton and Mermaid at Atcham, Shrewsbury. So Staffordshire and Shropshire have two good Sunday lunch places to try, they are both a similar costing with three courses just under £20 per head. So not a cheap but definately a well executed Sunday lunch. I think the presentation of the food at the Mytton and Mermaid was very decorative and favoursome but all in all very little to chose between them. One of the very few places I have seen a dedicated Vegetarian menu is at the Mytton and Mermaid, this week the soup on offer was tomato and red pepper and the main course we chose was butternut squash risotto, served with small cheesy potato croquets [ easily left off if you were vegan] and tasty rocket leaves. Having spoken to them the vegetarian menu is changed quarterly.
2/2/14 - an impromptu visit to Arthurs tea room at FordHall Farm proved a good move. The log fire was lit and the tea room warm and welcoming, the choice of cakes was a difficult one to make. Eventually we decided on a piece of Banana and poppy seed cake and a piece of coffee cake, a sandwich cake with a goo depth of filling. The pot of green tea arrived using the Teapigs green tea. All in all a very good place to while away an hour of so. Especially when followed by a walk through to the on site farm shop. The butchery held some great cuts of meat, all looking very fresh and willing you to buy and take away with you. I have used FordHall farm for various cuts of meat but never actually visited them before, I would recommend a stop here. There are walks around the grounds, the ethos is organic and natural even down to the soaps in the toilets. So if you are in the Market Drayton area either at lunch time or afternoon tea time, drop in and try.
well where has the first month of the year flown off to, at least the nights are a tiny bit lighter , snowdrops are peeping through and a feeling of hopefulness of the Spring approaching [ Ok a while away]. Seasonal foods are still very much the same as the last two months, just a few new ingredients to play with.
Last month we discussed diets and healthy eating, if nothing else aim to cook one different meal every week then your own repertoire of meals will increase by 52 during this year alone. Its all too easy to plan week in week out and stick to what you know but it is very important to vary your nutritional intake to ensure your body has maximum benefit from the fresh fruit/veg etc that you are eating.
Its this time of year I like to think of warmer days so I must admit I try and introduce a touch of the Mediterranean into the weekly meals, in fact as a principal I am very much led by the Mediterranean diet, especially the Greek one.
January 2014
Firstly, may I wish you all a Very Happy and Healthy 2014, dont fall into the trap of making those resolutions that you simply know you are not going to be able to follow. Did you know that research shows that most women give up on a diet after just 6 days, men last a little longer, they get to day 8!. So you can imagine that by February boredom sets in if you are trying to follow a very strict regime and the general lifestyle dictates that you are going to not be able to continue with this and have a social life. So whats the best way to do this, well approach it the right way and if the goals are achievable ie dont be too restrictive instead of saying to yourself "I want to lose weight" think "I want to improve my heart health, or I want to be less achy, or I want to be healthy" In this way as soon as you start to feel better then that is the incentive to continue.
Whatever diet/eating plan you decide to follow, one of the key things is to ensure that you include all the nutrients to keep your body healthy and funcitoning properly. So bearing that in mind think very carefuly before signing up to any No Fat, No Dairy diets, your body needs healthy fats & dairy, without it you are potentialy damaging your health.
There was a really good article in a daily paper which showed a young couple deciding to ditch the supermarkets and shop locally, not only have they saved nearly £1000 over the year, but their diet is much much healthier now They shop locally, using seasonal food where possible and supporting their local farmers markets. I must admit I do try where possible to follow these rules myself, having to use supermarkets for the hardware for the house really and a few bottles of wine. After all moderation is the key.! and red wine especially has some goodness to add to the overall diet, providing it is only a glass or two not the bottle!
So having spent a fabulous 2 weeks in the Caribbean on a cruise, extending my recipe ideas repertoire, as the food was sensational. It is back to the reality of a cold, wet and windy start to the new year. And like many of you my Healthy eating regime is getting back on track.... Good luck with your new year resolutions, make them achievable and you will do it.
December
Welcome to the final month of the year, I dont know why but every year it always seem to shock us that its December and that Christmas is around the corner, well literally coming to meet us at quite a pace. For the last few years I have chosen to try and shop as locally as possible, which is a bonus for Christmas as I drop Natalie an email with all my "Christmas Foodie Wishes" on and low and behold a few days before Christmas without all the hassle for me and the pushing and shoving and trying to source local food, all my food for Christmas is delivered. Delicious fresh vegetables often sprouts with the frost on! and the tastiest Turkey you would hope to eat. If you have a farm shop near you then pop and chat to them, they are friendly knowledgable people who will offer advice and information to enable you to choose the right sized joint for your particular needs. Luckily for me Greenfields Farm Shop is not only local but delivers, so through the year all sorts of goodies arrive in a well insulated covered box. Thank you to Natalie and the staff at Greenfields for making life not only easier but tastier too. www.greenfieldsonline.co.uk is a site to check out.
I've also had some fabulous emails from some of the Greek restaurants that I have reviewed during the year
Ellis restaurant in Aghios Nikolaos Nr to Stoupa in the Mani area of Greece, has let me know that she is open still every day during the winter from morning till evening and when its a clear night they light the bread oven on the terrace and use it as a very atmospheric fireplace. The menu is more limited but I can recommend many of their dishes for a truely delicious feast.
Panormos Restaurant in Kefalonia also responded to me and enjoyed my review of their Restaurant back in July, the chef is John Alexander Zachariou, one thing I didnt mention in July and my husband reminded me was about the delicous saganaki we had there. Now for the uninitiated Saganaki is usually a plain piece of fried cheese, not exactly the healthiest starter or light lunch but a delicious must when you are in Greece. It is usually just coated in flour and lightly sauted in olive oil and then served with fresh lemon and a piece of coriander. However, try the Panormos one and it is coated in sesame seed and then sauteed it is absolutely delicious.
To all our Greek Friends Eftihismena Christougenna, Kali Chronya.
And to all my readers a Merry Christmas and a Happy and Healthy New Year.
November
Oh no the eleventh month of the year not only has arrived, but is actually nearly at the end. Sorry I havent updated so regularly but my talks have been busy and I have spent a very enjoyable evening with Shifnal townwomens guild, where they were not only interesting to talk to but very knowledgeable about food too... so all in all Nutrition for Healthy Ageing went down a storm and we polished off some samples of spelt bread, lamb meatballs, no syrup used flapjacks and some other things too. I dont think they went home hungry! Whilst I was there I was chatting about seasonal and local food and I had that day made a very easy butternut squash soup, so to fulfil demand that recipe is now on my website. Give it a try and boost your beta cartotene intake with the greatest of ease.
Farmers markets abound and if you havent already tried one I urge you to go along and sample and of course buy if you like some of our locally produced foods. They are growning in popularity, and how good it is to actually talk to the producers themselves, you know the history of the ingredients, the breeds if its meat and you can find out about their welfare policies and beliefs. It really is great to know you can trace your food from gate to plate literally!!!! If you are there around a lunchtime then take the opportunity to try the produce for your lunch! hot or cold there will be something there for you to eat.
The last weekend in November has seen the Lilleshall food show, an impressive array of hampers using local producers was on offer via HEFF - Heart of England Fine Foods. Oh and as an aside a pop up shop has "popped" up in Newport Shropshire which is stocking some of the HEFF producers goods, give it a go and make up your own Christmas hamper as a local gift for friends.
I've been very active on twitter with various foodie bits and pieces, give me a follow @ninanutrition and you may find some interesting information either local food wise or nutritional ideas........
October
25/10 Spelt has occupied quite a bit of my time, because I have been talking to people about using it and the many benefits of including it in your diet. I also have experimented with spelt in my breadmaker, something which the manufacturers dont endorse. But time was against me so if I can find a quick win using the breadmaker then all the better for both mind and digestion. Now because the gluten is more delicate than wheat you get better results if you handle spelt less than you would ordinary flour. So using my standard loaf mixture of 400g spelt flour, 1/2 teaspoon of dried yeast, 1g salt, 1 tbspn sugar, 15g butter and 330ml of water. I cooked one on wholemeal full cycle which takes 5 hours and the other on wholemeal quick cycle which takes 3 hours - the best results were the quicker version it was lighter and had a higher rise on it. The 5 hour load resembled a solid, more close textured loaf - still excellent for toast but harder to use for a sandwich. There are several spelt flours on the market, I find Doves and Sharpham park best in the breadmaker without having to add any wheat flour. Or if you want a slightly coarser grain of spelt then Bacheldre Mill flour will give you this, I dont find it works quite so well in the breadmaker without using 300g spelt with 100g white wheat flour. This does give still a close textured but quite well risen loaf.
21/10 - wow busy time, delivered a talk to a local group included some foodie tasters to wet their appetite and all in all it was a great evening, lots of forthcoming questions and nutritional shortfalls answered. One particular query is around Iron and lack of it in the body so I have pulled together some interesting facts and figures which you may find useful if you are struggling to keep those levels up.......
14/10Two weeks in the Mani, Greece have set me up for the winter ahead. The weather was fantastic, people wonderful and the food really was exquisite. We found a new restaurant in Aghios Nikolaos, Nr Stoupa run by a local girl called Elli. She took on the restaurant in June following a period where it had been closed, it has had a complete makover and the ambiance and food is worth going out of your way to try. The pride she had in getting the produce locally sourced, and trying old and new Greek recipes made this one of the best restaurants I have been in. We had actually tried for several nights to get in but it was always full!
If you are lucky enough to be in Aghios Nikolaos during the Autumn/Winter she is keeping the restaurant open, she has a great fireplace and whilst the menu will be reduced you will be certain to get some good quality food. Kali Orexi!
Whilst there, the Kalamata olives we ate certainly helped the Greek ecomony too. They are certainly the ones that I always buy even back her in the UK, but having done some research via the internet and from written sources, I understand now why they are the ones to choose. Kalamata olives are large purply black almond shaped olives, they cannot be harvested green and have to be hand picked in order to avoid them bruising. Kalamata olives [ as all Greek olives] are cured naturally, they are not speeded up like some of their European cousins! I was horrified to read about the way of curing olives in Lye for some Spanish sourced olives [ Lye in some formats is used to clean drains!] also the addition of iron to some Italian olives to give them that shiny rubbery black look. So stick to Greek olives, the most you might get is a slit in them to assist the brining process. There are only two ways of processing in Greece, the long or the short method. The short method is to pack them in weak brine for around a week, then pack in wine vinegar, and olive oil often you buy these olives with a slit in them as this helps the brine take the bitterness away quicker from the newly picked olive. The longer method takes on average three months, during this time they are sitting in brine, then rinsed and packed ready for eating. These methods ensure that the levels of antioxidants and anti-inflammatory are of the highest level possible in your processed olive.
Incidentally I always buy Greek olive oil too as the Greek olive oil doesnt mix other Countries oil with theirs' , it is Pure Greek Olive Oil....
So having left the Greek sunshine behind we are now well into Autumn here and the slow cooker is working well to support some healthy nutritional meals with least effort. There are quite a few recipes on the recipe page but I will be adding to it in due course.
September
Nine months into the year, blimey! busy time in the kitchen for anyone who grows produce, I was bequeathed a huge courgette [ border line marrow] and was at a bit of a loss to utilise it, until a colleague mentioned that they had made for the last couple of years a delicious river cottage courgette chutney. No sooner mentioned than made! a nice Indian infused spiced chutney, which I am assurred will be perfect for Christmas time. Although I did take some into work and it disappeared very quickly. The recipe is easy to find on various websites if you want to give it a go....
I have also find a little bit of time to watch Nigel Slater on a Friday evening producing some economical dishes from "leftovers" One particular thing which caught my eye was a cheese scone! No not a small one but a large circular one to break and share. I just happened to have some stilton in the fridge which in itself is most unusual but it needed finsihing off so I set to and made the scone, it was delicious and I could quite see how it would accompany a thick tomato or veg soup on a brisk autumn/winter day. It made a delicious change from sandwiches for lunch for several days and stayed remarkably soft and tasty.
Having trimmed the bottom leaves from my cherry tomato plant, I have been sitting patiently awaiting the fruit to ripen, and rather like buses they all tend to ripen at once, so some of these little sweet cherry tomatoes have been added to slow cooker creations to enrich the sauces I have been making.
I know Autumn is on approach when I received a tweet from The Bell at Haughton, in Staffordshire to advise me that my favourite smoked haddock will soon be back on the menu. I must admit I am a lazy fish eater but this is the nicest smoked haddock I have eaten in a restaurant for a long time, so well done Alison I shall be hopefully trying it before too long. Last time I had it served with a chive veloute sauce and poached eggs and spinach - wow!
Sadly time hasnt allowed me to be out picking blackberries, but a posting on twitter from The Black Farmer showed the most perfect blackberries which I suggested once they had filled up on Blackberry and Apple Crumble! they could consider making a blackberry chutney, then I posted the recipe on twitter.. Dont know if that has been made but again a wonderful chutney for a boxing day with a plain pork pie or cold turkey sandwich.
August
August already! long warm days and they have been so far , plenty of Country fayres, local produce markets to investigate and buy from. Its a good time of year to host events for your friends, and that is just what we have been doing! Rustic meal for Friends from France inlcuded a beef in ale recipe cooked in the slow cooker, with a range of vegetables - finishing off with a rather crispy based lime and ginger delight. I'd like to say that the pizzas I cooked for 12 people who stood around the chiminea [ok it was a tad chilly at 9pm!] were home made but unfortunately not - work sometimes gets in the way so they were purchased but still very welcome by the dozen hungry mouths.
There have been a lot of fabulous foodie events, I have managed my usual Stone Farmers market [ the first Sat of the month!] Stafford Farmers Market [ second saturday of the month] unfortunately we really need the Stafford one to be busier so if you have chance pop along and buy some fantastic local produce, there is something for every meal of the day! and you can usually get something hot and freshly cooked for lunch. I bought some home made pakoras from Simon [www.curryboxuk.com] he specialises in Gujarati style cooking. If you buy the pakoras then also buy the mango chutney - a marriage made in heaven. I found out this month when my French friends were perusing the market that Simon also speaks French - is there no end to his talents.
July
I took full advantage of the Greek way of life by spending two weeks there during June, I can honestly say their tomatoes are the tastiest so far this year [ sorry local producers but the flavour is sublime!]. So having eaten in a few tavernas, the Panormos restaurant in Fiscardo. Kefallonia serves their own version of moussaka. Now like all Greek kitchens they dont divulge the full recipe but the main difference is the lack of potato and the introduction of courgette instead. All the ingredients are baked together in small individual dishes which allows the flavours to permeate and makes one of the most delicious moussakas I have tried in over 40 visits to Greece. The family deserve to do well there so if you are in Keffalonia, make your way to the Roman Excavations and the Panormos Restaurant is right next door - you wont be disappointed. If you also like a good Saganaki - then their cheese saganaki is different and try one portion between two with their tomato salad.....
So back to the UK and disappointingly the seasonal foods are still running behind, which means that some of the longer standing additions from May are still in the frame for July - I havent gone mad and forgotten to remove them its purely the weather that is meaning they are to remain there for you to still try.
June -
gosh where has May gone, a very busy one for me. At least I managed to get out to Stone farmers market for my monthly fix lots of regulars there Debs Savoury Eggs, curry box, Pimlott beef, London Road Bakery [ in fact just enjoyed a very large roll full of goodness for lunch today!] and far too many to mention. It is a delightful morning out every first Saturday of the month. Now despite May having been Mediterranean Diet month, dont fall back into the old ways now its June. Take advantage of the sunny weather [ while its here] and enjoy those Feta, olive and avocado salads - think of the good omega fats, the calcium, and Vitamin E - what wonderful skin and healthy joints you will have if you eat like a Greek!
May
Well after a fairly quiet month website food wise, I am hoping to be able to spend more time in May to bring you some seasonal inspiration and new recipes. I havent just been resting on my laurels I have been visiting various places to source good local produce and still I find my favourite farmers market is Stone in Staffordshire. It is on the first Saturday of every month and stretches the length of the high street, you can get your hands on all sorts of meats including, veal, buffalo, prime locally reared meats, artisan bread, locally produced curry and accompanying spices, every sort of egg you could wish for [ well ok not perhaps every but most!] if you are partial to smoked fish the Lancaster smokery brings a tardis like phone box size smokery with them and the smell permeates throughout the town. Actually its not only fish they smoke but duck, cheese I feel you can ask them to smoke anything, but during the market it is usually a full load of kippers which are I assume a bit quicker to smoke and therefore so fresh they almost walk out to meet you. As the month with two bank holidays is upon us, I find we are wandering around garden centres checking out which herbs I am going to nuture and use this year, already my thyme, mint, oregano, curly parsley and garlic are doing well - all these are staples year round if I can keep them going. I think with the warmer weather it encourages me to grow some basil which I use with fresh tomatoes and pasta dishes - making me hungry already.
April
Finally the hour changes and the days get longer, bringing with it warmer weather!!! well only just starting. The first week has still been cold and leaving you wanting comforting casseroles, but as the mercury creeps up the lighter side of cooking starts to return. Whilst we are not quite into salads yet!!! the slow cooker has a different set of ingredients including peppers, tomotoes, spinach all in all a brightly coloured concoction which is ideal to serve with chunks of free range chicken or a mince beef dish. I like to take a set of ingredients for the basis and then think about the seasoning to turn it into either a Mediterranean style meal or a spicy Indian influenced dish. You can change the end result by utilising and understanding those various herbs and spices that sit in you spice rack. Mine certainly dont sit there they are well used and experimented with.
March
29 March Good Friday and a bright sunny day ideal for a walk, but what to cook afterwards. Well some line caught haddock is on the menu tonight with home made bread for a rather rustic meal.... Already had the shopping delivered from Greenfields, which included a rather nice free range chicken from Bryn Drew - they always taste so good, so I think a slow cooker roast is in order. Easy just pop a lemon sliced into the bottom of the slow cooker, add the chicken, drizzle with olive oil and !cook....... the smell will welcome you when you get back from whatever activity you have planned for your Easter Saturday. It doesnt need pre heating, pre cooking or anything else. But I can guarantee it will fall off the bone and taste exquisite
25 March - not often two entries in as many days, but with this incredibly cold snap I am creating a chicken and lentil dish tonight with some grainy mustard in it and I think some comforting mashed potato! perhaps even one of my light syrup sponges too...........I will leave the recipe on the main recipe page for now until it gets a bit more like spring!
24 March - having just returned from the Tip of cornwall where despite the weather forecast showing wall to wall rain we have had a glorious week with just one day of heavy rain, the rest of the time has been around 11 degrees, sun and broken cloud so ideal to get out and about walking the coast path. I found lots of wild garlic growing, a delicate flavour with usually a lot more nutrients in it that than the farmed variety. Easy to use the leaves, treat them like sorrel or spinach and steam then drizzle olive oil over and a little black pepper. Great accompaniment to Lamb, you can also chop it all up and use it to make a delicious stuffing mix. So having left blue skies we move "up country" as the locals say and headed off into first the cloud and cold of the East Devon Coast, then up towards the heart of England where from Worcester North the snow fields were visible. Bizarre to start off in 12 degrees of blue sky and finish with -1 and snow!!!! Its forced me into the kitchen upon my return and there is a slow cooker full of lentil, barley and tomato stew cooking for some lunches this week. The scones barely left the oven and they were eaten, no added sugar in these and they work everytime!. Then there is the spelt sponge cake filled with lemon curd from cottage delights and atouch of proper butter cream, supposed to be ready for Easter, some chance - two slices missing already......
Beginning of March-
Just been lulled into a false sense of security with the warm spring like weather, Stone Farmers market was a cracking day good number of stalls, met and chatted to some fantastic people including Park Hill Farm, The Port Lancaster Smokehouse, Curry Box UK, Deb from Savoury Eggs, Bevs Bakery and London Road Bakehouse. Well there were many more too but had I have stopped and chatted to all it would have been a very long day...... I purchased some shin beef from Park Hill Farm, and Pat was telling me their meat is all sourced themselves and sold directly from the farm. I can honestly say it was delicious, it just melted in the mouth having been given my beef in ale recipe treatment, They are on Twitter @ppimlott and they also have a great ethos for which they have been awarded in the past the Countryside Alliance Enterprise award. A week later in Stafford, a purchase has been made of some brisket - another old fashioned cut of meat but absolutely delightful when cooked slowly with root veg, all you need to do is add a yorkshire pud and a few roasties and you wont look back. I was also pleased to hear that on the same day as Stafford farmers market a new one has sprung up in Cheadle Staffordshire and they had a stall there too. Having tasted their beatiful product I will be purchasing next month from them.
I have had some great feedback from my recipes on the website and I thank everyone for that, I am purely sharing with you my favourites and ever be adventurous and try adding different things to a basic recipe to create a different dish with different nutrients in it.
So with a mix of weather this month it seems the root veg are still very much in attendance with my recipes but I have just made a chicken, onion, garlic and aubergine stew to which I have added wholemeal pasta and some cumin - a slightly lighter touch so fingers crossed it tastes as good on a cold day as it would have done on a spring day!!!
February
Well as January moves into February and the nights are slightly drawing out! thankfully, Christmas is a distant memory and thoughts now go towards Spring and Summer, let's start to really focus on getting the right nutrients into our bodies in readiness of the warmer days. Lets also think about a bit of belt tightening - excuse the pun! For example, we all know that blueberries are full of antioxidants but at this time of year they just have to be imported so swap these one week for a red cabbage - OK it wont mix too well with the yoghurt but it will still give you the same antioxidants at a fraction of the cost. Grate it onto sandwiches, finely slice and cook with mackerel or pork. Or make a healthy "slaw" out of it to serve with your salad or roasted meat/fish of choice. I am keen to promote local foods and to use local producers, often if you follow me on twitter @ninanutrition you will see what is happening in the world of food and nutrition.
Dont put away the slow cooker though, I will show you how to use it effectively through the seasons, it is a very good way of using less fashionable cuts of meat, which are often less expensive too. It also helps you to include your 5+ a day vegetables into your meals.
MID-MONTH UPDATE - Dont be put off Beef with the recent publicity, what I would say is though make friends with your local butcher and buy British Beef. There are many many cuts that are economical and easy to cook. Often the ready meals that you may have been eating can be recreated far more economically using more veg, slightly less meat and there are some crafty cooking methods that mean with a bit of planning and organisation you can get the dinner on the table in about the same time as heating a ready meal up. If you want to try just one thing. Buy a piece of brisket [ much cheaper than a roasting joint] put into an ovenproof dish with your vegetables of choice [ carrots, parsnips, potatoes, chunks of onion], some beef stock [a cube is fine] Use a slow cooker setting on your oven, or use your slow cooker - low temperatures, longer cooking time is the key. I use of course my slow cooker and the meat falls apart. Cheat a little if you like and pop a yorkshire pudding into the oven then your "Economical Beef " Dinner is ready to just enjoy.
SHROVE TUESDAY I also have some plans for pancakes with a difference I am going to use a savoury mince [ I know where the meat is from!!!!] filling, pop into pancakes roll up into cigar shapes, cover with some grated cheese and heat through till the cheese is melted - ideal if you are diabetic or dont like sweet pancakes. I am actually going to use the base recipe from my chilli without getting as far as adding the beans......
END OF THE MONTH ALREADY! Well March is on approach quickly now, the days are drawing out and the seasonal foods should start to change from the root veg to include some slightly lighter leafy greens and a few spring onions. I do wonder though with the strange weather we have had whether of not the seasons will act as they should it will certainly be worth keeping an eye on the local farmers and producers.
Yesterday I was on www.staffordradio.com at 1pm for a Food and nutrition slot, fantastic response many questions to answer from listeners following my first appearance - in fact we ran out of time! But I have been invited back and shall be back on the show 21 April [ about 8 weeks away]
January notes
I hope you were all realistic with your new year resolutions! Think Healthy and focus on making sure you feed your body with the nutrients it needs rather than concentrating on losing weight by following diets that cut out various foods. After all we all know Moderation is key! OK we are now midway into January and you may well be lacking some inspiration, check out the recipes that I have added and get your slow cooker primed and working for you! the chilli is a good antioxidant recipe, low in fat and you can serve it with some artisan bread as I did and or some brown basmati rice for a really healthy, higher fibre low fat creation.