Latest Nutrition/Food News
A reminder that this list doesn't try and cover everything but a selection along with some alternative inspirational ways of using them rather than the normal steam, boil, bake...Feel free to contact me via goodfoodandnutrition@gmail.com or Twitter @Ninanutrition, with your ideas, I will try then and then if I use them in future editions I will credit you accordingly. You can also check out my foodie travels by visiting my travelogue www.ninageraghty.word
March - What's in Season now?
March is the changeover from winter to Spring, the days are getting a little longer, the buds are bursting on some of the early flowering trees and bushes.
CITRUS FRUITS – ORANGES, SATSUMAS, CLEMENTINES, LEMONS AND LIMES. - often just thought of as a source of Vitamin C, but this group pack more of a punch than that. One fruit ranges between 130 – 200 mg of your 3500mg daily needs of potassium, between 20 and 45mg of your 800mg of calcium per day, and of course a good source of fibre. Whilst you might find it easy to incorporate the oranges you may struggle with the lemon and lime. A perfect way to use the lemon is in a Greek recipe for Lemon chicken and potatoes. You can either do a whole chicken stuffed with 2 lemons halved , sprinkle with thyme and if in the slow cooker [ yes you can cook a whole chicken in there!] cook the potatoes with it. Or if you have chicken legs then place on a tray, add your potatoes [ cut into large chunks] using two lemons [ one per person] sprinkle the zest over the ingredients, pour your lemon juice over and then drizzle of olive oil and freshly ground black pepper over. Cook for approx 45 mins in 180 oven. There your meal is ready and smells delicious. My friend Elli at Ellis restaurant in Aghios Nikolaos, Mani actually does the most delicious Elli's Greek Oven cooked Lemony Potatoes, where she slow cooks in the oven peeled potato thick wedges, with olive oil, lemon juice then the bodies of the lemons and white wine. These cook for hours at a medium temperature, in other words they cook whilst the ovens are on, they are divine. I have tried to replicate them here but without the view of the harbour and the warmth of the sun they are not quite as good as hers'!!
Blood Oranges
Perfect for marmalade owing to their high pectin level and the strength of the peel, but also ideal to use in various recipes, use the peel in very thin slices in your stir fry and the juice as part of the stir fry sauce. They are particularly good with pork stir fry, use the juice in any savoury recipe that you would normally use lemon or lime juice for, it works well. Also consider using a few segments in a winter salad, take some grated celeriac, thinly sliced fennel and orange segments [ no pith!] then dress with balsamic vinegar, a pleasant change from a lettuce based salad. This works well with cold meats.
Rhubarb
some early forced rhubarb will be ready around mid month, this is delicious lightly poached with some sweetener of choice and then crumble topping. I like to do this in small ramekin dishes and serve with custard alongside. Or just make a good old fashioned bowl full and tuck in. Of course you can also make jam, jelly or chutney if the mood takes you. This is a good way to use it. If you search through your cookery books you will find all sorts of ideas of how to use it.
Venison
is also still in season and a delicious recipe is my slow cooked venison casserole which you can find on my recipe pages, in fact it is treat of a dish and ideal for a no fuss dinner party main course. However a more every day version is my Plummy Venison Casserole, for 4 people, use your slow cooker. Put in 500g cubed venison, 2 carrots cut into rings, 2 sticks of celery cut into rings, 2 cloves of garlic chopped. Now mix together 450ml of stock, 3 tablespoons of plum jam [ homemade with slightly less sugar is ideal] heaped tablespoon of spelt flour, whisk to remove any lumps and pour over the ingredients in the slow cooker. Add 2 bay leaves and a few sprigs of thyme. Cook on slow for approx 7 – 8 hours. Serve with either jacket or mashed potato or celeriac mash and a green seasonal veg. The aroma will meet you when you open the door and your "ready meal" is ready...
BRASSICAS - BRUSSELS SPROUTS, CAULIFLOWER, BROCCOLI, KALE, RED CABBAGE [ SAVOY CABBAGE I SOME I HAVE SHOWN SEPERATELY WITH THEIR OWN RECIPE IDEAS. - A good source of your antioxidant vitamins A, C, E , fibre, potassium, calcium, iron and folate. So you can see how important these are to your overall health. Of these Brassica's Kale is your best source of Vitamin A and lutein and calcium so protects not only your eyes, and skin it is useful for healthy and strong bones. Broccoli is a rich source of suforaphane which studies have found have anti cancer and anti inflammatory properties. Obviously what you don't want to do is overcook any of these in water and lose the water soluble vitamins A, C and E. I try and steam my vegetables now and they do cook remarkably quickly whilst retaining the nutrients better. One of my favourite ways to get them into the diet is to make them into a soup, so if you have excess cauliflower try a Cauliflower Cheese Soup – I guarantee that anyone who thinks they dont like caulflower will fall for this simple recipe. You just need a head of cauliflower, litre of stock – cook till soft! [ dont worry you retain the nutrients as you are using the water youve cooked it in] Drain off 500ml of stock then puree the rest together when cooked. Leave to one side to cool slightly then make a roux sauce, with 50g of butter [ or oil] 28g of spelt flour and 250ml of milk – you will find this a very thick sauce, so add the cooking liquid you have put to one side. Stir to remove any lumps and bumps and stir in the pureed mixture and 100g of grated cheese. Serve with a few chopped chives or drizzle of cream if you have any to use up. Serve as a main course lunch with some crusty rustic wholegrain bread. Broccoli and Salmon Pasta Bake – This is a great way to use up left over salmon be it freshly cooked or smoked salmon end pieces, Add your freshly steamed broccoli, mix into a tin of chopped tomatoes and add with lots of black pepper to your ready cooked pasta, pop into an oven proof dish and then heat thoroughly to make sure it bubbles, sprinkle with cayenne infused breadcrumbs or grated cheese further 5 mins to crisp/melt and then a perfect omega 3, potassium, vitamin A and folate lunch!
Cauliflower
The creamy white heads of the cauliflower are really standing out, don't just think boiled and with cheese on. This little gem makes a delicious soup. One of my favourite recipes is actually cauliflower cheese soup, which even non cauli eaters tend to rave about. Cauliflower cheese needn't be a no no though on its own. Lightly steam your cauli till its the right texture for you, drizzle a tablespoon of rapeseed oil into a pan, stir in 1 table spoon of spelt flour and then add approx 150ml of soya milk. This makes your roux sauce, stir continuously and add a teaspoon of dijon mustard to flavour. This gives you the healthy fat of the rapeseed oil, and cuts out the rich cheesiness of the sauce. I tend to pour this over the cauli and then add 2 teaspoons of parmesan and grill till brown.
Celeriac
Very versatile knobbly little number. When you come to chose one, make sure that you handle it and it should feel heavy, you don't want a large celeriac which is lighter as this will undoubtedly have air pockets in it. I think a famous cook when discussing celeriac said " it may not be much of a looker, but it is one of the most versatile of all winter veg" I tend to agree with this and I use it in salads, soups, roast, casseroles and mash! pure comfort food with less calorific value than the potato. When preparing Celeriac, once you have peeled down to the white flesh put is straight away into water to prevent it oxidising and going brown, as soon as the air hits the flesh it turns.
For mash you can either do 100% celeriac or 50% Celeriac added to either parsnip/carrot or potato. For mash you can cook it is milk then blitz with some of the milk to make a very creamy purée.
You can chop into pieces and throw onto a baking tray with a mixture of parsnip, carrot, potato, onion, garlic and drizzle with wither olive or rapeseed oil and roast - a one tray dish to accompany your chosen meat.
Kale - a good source of iron and quite versatile too. Wash and either leave leaves whole or cut into ribbons, then add it to your stews and soups especially chunky minestrone type soup which is ultra colourful and filling at this time of year. If you simply want to steam then this is a good way to enjoy but how about a stir fry, sauté lightly in oil then add some chilli and garlic and serve with either a grilled plain meat or fish or add to pasta perhaps with some tomatoes for a vegetarian option.
Parsnips
Still it is the Parsnip season, now for me I like to peel, chunk and pop in an ovenproof dish, drizzle with olive oil and some freshly ground black pepper and cook till slightly crispy on the outside but still soft and creamy on the inside. You need to pop the dish in around 180 - 200 degrees and turn after about 30 mins, you can judge then how much longer you need to leave them, it is dependant on the size of chunks you use. I often cube carrot and potato and cook them altogether its quite a lazy way to produce some home roasted root veg ideal with your meat, and not swimming in fat!
Parsnip soup - rather than an ordinary plain soup check out my slightly spicy parsnip and apple soup on the recipe pages..
Another think I really like to do is use parsnip as a mash instead of potato, its sweeter and slightly less creamy in fact quite a rustic mash but ideal on a mince mix, you know when you've used the mince for one dish but you have a little left over, just pop in a dish and mash your parsnip and place on the top. A Mince pie with a difference.!
Jerusalem Artichokes
As a little girl I remember an Aunt in Suffolk taking me to the garden and digging up these strange shaped "potatoes" so I thought . I soon realised when faced with peeling the awkward shapes that the texture was different and could be used in any way that you would use other root veg. So steam, boil, cream, purée, add to casseroles, roast, mash - need I go on. They are worth the effort though, chose those without soft patches and no dark spots then peel and pop in water to stop them discolouring whilst you decide how to use them. A good source of potassium this veg makes a delicious soup. Just cook them till soft in stock, perhaps add a few chestnuts if you have some left over from the festive season, soft purée an set aside. Lightly sauté some lardons and serve in your soup with some crusty spelt bread - Perfect winter lunch.
Brussel Sprouts
Ok most people love or hate them, but the days of popping them onto boil about October so they are ready for Christmas have probably been overtaken by some different ideas of how to cook them. And if they haven't been then try something a bit different.
When you are preparing your sprouts, don't do what the husband of a friend of mine did, it was Christmas Eve and he rang his wife to say he had tried to prepare the sprouts but he could find the sprout, he had painstakingly peeled every leaf off until he was left with a lot of cone shapes and thought wondered where the sprout had gone. His culinary skills have improved now as they jointly run a great little homely guest house in Paignton, The Kingswinford.
So 10 mins max if you are boiling!, they are absolutely full of phytochemicals which are thought to have good cancer fighting properties [antioxidants], they are really rich in vitamin C, B6 and folate and just 8 count as one of your five a day......
A good way to cook them is to stir fry, not only is it a good way to preserve the nutritional benefits but also the addition of the oil makes it easier for the body to absorb some of the carotenoid compounds which are those great antioxidants.
Short of salad inspiration during the winter, pull off the outer leaves of the sprout, pop in boiling water for up to 2 mins, then plunge into cold water [ iced if possible] drain and then dress with a home-made vinaigrette, this has a slightly sharp bitterness much like rocket but abundant and locally sourced during the cold winter months.
If all else fails and there are some sprouts left over from your roast, then go on mash the veg all together, add one egg and a little spelt flour and pop into an ovenproof dish - bubble and squeak with a difference. I often do extra veg with a roast just to use this the following night, I like to sprinkle a little strong cheese on too finish the meal off, it gives you an alternative meat free night.
Chicory
Anti inflammatory which can help arthritis sufferers, along side this the fibre in chicory is a good prebiotic so great for your healthy digestion.
Chicory is covered during growing to prevent it turning too dark, if it was to change from a pale colour to darker it is likely that it would become too bitter to eat. When you store chicory, keep in a brown paper bag and store in a cool place like the veg box in your fridge. When you chose chicory pick a heavy one, if its light it means it has started to dry out and wont be at it's best. If you cut it brush the cut edge with diluted lemon juice to prevent discolouration. Chicory is a bitter tasting vegetable, one of my favourite ways to eat it is to blanche it for a few mins to soften slightly, drain, cover in a good quality ham and pour a cheese sauce over. Quite a delicacy in France as a main meal with just a piece or two of baguette.
Spinach
A very versatile one this, use it either raw in salads, or cooked. Now I tend to use it in some of my tomato sauces at this time of year to give them a little more body and to get more minerals and vitamins into the meal. You only need to add it at the end of the cooking and it almost melts into the sauce, ideal on pasta. Spinach also gives body to curries or dahl, again added at the end of the cooking just before serving and you will find a slightly different dimension to your vegetable or chicken curries.
Only last week did I cook some salmon in the oven with pesto and then just as it was cooked I lifted the salmon, put some spinach underneath replaced the salmon and the juices from the sauce cooked the spinach and made it seem like the sauce.
Spring Onions
One of the first signs of growth in the garden, nothing fresher than picking washing and chopping a new spring onion. Add it to your stir fries or lightly sauté in butter and then add to your mashed potatoes - wow a powerful punch!
Leeks
One of my favourite veg, they are an absolute powerhouse of nutrients. The leek is a member of the onion family so as well as all the things onions offer us health wise, regular consumption of leeks is thought to reduce the risk of various cancers. They are rich in Vit C, fibre Vit E and folate so a good all rounder!
Once you've cleaned the leek well to get rid of any soil that might be hiding in between the layers, there are many things you can do.
A Healthier Leek in Cheese can easily be achieved by slicing your leeks, putting in a dish, adding 2 tablespoons of water, covering and microwaving until soft. Leave the juice with them then sprinkle with some grated cheese and finish off in the oven, he cheese melts there is no heavy sauce, so your calorific count is far less than leeks in cheese sauce. Plus how easy was that to prepare......
Don't throw the green tops of leeks away, they offer a little more bitterness but are ideal in stead of cabbage in soups or stews. In fact the more of the green section you use the more nutrients you will be taking in. You can also slice finely and stir fry, this adds a slight oniony flavour to your other veg....
Purple Sprouting Broccoli – this little gem is likened to the asparagus of broccoli and is a great way of introducing a different colour into our rainbow choice of 5+ vegetables per day. The purple colour is naturally higher in antioxidants than your green choices. Simply lightly steam this, drizzle with a little organic extra virgin olive oil and serve hot with your meat or pasta.. Also try Purple Pesto - Steam, then add 2 x spring onion, 30g feta cheese, olive oil and blitz in your foot processor mix in a squeeze of seasonal lemon juice and serve either as a sauce for plain meat, pasta or a dip......
POMEGRANATE - wow its like adding rubies to your salad!. But there is more to this jewelled beauty. Studies show it is full of antioxidants and is often quoted as having anti cancer properties, also stopping your arteries furring up! Dont just sprinkle them over your yoghurt, or salad, make a Pomegranate Tzatziki – take 150g of 0% Total Greek Yoghurt, mix in chopped coriander, pomegranate seeds, chopped mint and stir and chill. Makes a great accompaniment for Lamb, or just a protein packed low fat dip!
Beef
The shorter days give the impression that casseroles should be on the menu again, beef is a good buy especially if you know where its from. We are lucky and have some good producing farmers locally where you really can trace the meat from gate to plate. Shin is a rather old fashioned cut but an economical one and comes into its own in the slow cooker. Also a nice piece of brisket! don't think its a fatty cut, when cooked properly it has a tenderness that you will appreciate especially when cooked with some root vegetables with it so they take on the meaty flavour and then serve with either the mashed potato or mashed celeriac above.
Lamb
Whatever you do please choose British Lamb, you will not only be helping your local producer but its worth knowing that there are no growth promoting hormones used in the UK and for Lamb the only antibiotics used are only administered under veterinary direction.
contrary to what you may think Lamb is still very much around, the longer growing season and demand means that it is almost available till the last months of the year. In fact it is known as Autumn lamb from Summer until December. From Christmas to Spring it is called Hoggett which means it is up to 2 years old so has developed a more pronounced flavour making it ideal for a slow cooked casserole with some root veg. For a special occasion use a leg of lamb, spike with rosemary and garlic, drizzled with oil or butter and cook in the oven, the smell will drive you mad. For a cheaper cut try my lamb hot pot recipe with a twist on my recipe pages. Another great idea is to use a British lamb shank, and then add the tagine spices [ the full recipe is on the recipe pages Kay's Lamb Tagine]
Incidentally a more old fashioned term Mutton is in season between October and March, this slightly gamey tasting meat comes from an animal that is over 2 years old.
Seasonal Fish - If you are lucky enough to be near a beach with active fishermen then firstly you are lucky! But secondly take full advantage of the delicious fresh catch from our coastline.
Sea bass is now around again, simply fillet, dust in seasoned flour and fry lightly in butter. Serve with seasonal purple sprouting broccoli and some finely stringy home made potato frys!
Mussels,clams, cockles and Oysters are in season - make sure you source well and if you are lucky enough to live near to the sea then make friends with your fishmonger or fisherman and chat about favourite recipes and way to cook with them. They are the experts.
Salmon
from now till September wild salmon is available - again a very quick easy meal , it cooks in around 20 mins you can cook it in the oven and serve plain with veg, add a sauce [ watercress, pesto, chilli etc.] , you can stir fry it add noodles or pasta. Mix cooked salmon with lemon and yoghurt for a sandwich filling or to add to a salad
With our ever changing seasons this is a guide and dependant what time of the month you may find availability differs.
What should be good to eat now ;-
Blood oranges,
Brussel sprouts,
Cauliflower
Celeriac
Chard
Chicory
Clams
Cockles
Cod
Coley
Cucumber [ early greenhouse raised]
Globe Artichokes
Goose
Haddock
Jerusalem artichokes
Kale
Leeks
Mussels
Oysters
Parsnips
Pollack
Purple Sprouting Broccoli
Radishes
Rhubarb [ forced]
Rosemary
Sage
Salsify
Sardines
Savoy Cabbage
Sea Bass
Sorrel
Spinach
Spring Onions
Venison
Wild Salmon
Some interesting nutritional articles to give you "food for thought"!
Peri and Menopause advice.
During the stages of the menopause less oestrogen is released. When this happens the brain tries to get the ovaries to work harder by releasing a hormone called FSH [ follicle stimulating hormone] and LH [ luteinising hormone] its actually these hormones which cause all the problems associated with the menopause.
Some foods are a good source of phytoestrogen which is a dietary oestrogen found in plant sources it has been found to relieve some menopausal symptoms. Phytoestrogens are also antioxidants and boost the immune system.
FOODS TO EAT –the following are good sources of phytoestrogens
Soya – in the form of soy milk, edamame beans, soy yoghurt, or soya protein [tofu] – these can help to reduce the severity and frequency of hot flushes
Flaxseeds, pumpkin, sesame and sunflower seeds can help to balance the hormones – try Burgen bread which is Low GL and contains a good source of these particular phytoestrogen sources.
Nuts such as pistachio, walnuts, cashews, hazel, almonds and peanuts – all natural and unsalted!
Low GL foods and in particular whole-grains will help to maintain a steady blood sugar and ease mood swings. They are also rich in Vitamin B which also affects the hormonal balance in your body and mood [ they raise serotonin levels the happy hormone!]
Omega 3 oils – oily fish, olive or rapeseed oils, quinoa are all anitinflammatory and can help to reduce hot flushes as well as protecting the heart.
5 upwards of fruit and Vegetables, always try and max at 3 fruits a day otherwise the sugar content will be high and that will not help you to keep your blood sugar stable. [ if you want ideas or to know what a portion is check nutrition news pages www.goodfoodandnutrition.com
Garlic, Generally the greener the vegetable the richer the source of phytoestrogens and they will also be high in antioxidants.
At this time of year incorporate berries and raspberries in your diet, they will shortly be in season,a great source of phytoestrogens
Beans and pulses – include hummus, chickpeas, lentils, kidney beans, cannelini and butter beans
Vitamin E rich foods – again your nuts, sunflower seeds pine nuts, cooked spinach, avocado and dried apricots have been shown to control and even eliminate hot flushes and protect against vaginal dryness which often is a problem during peri-menopause.
AVOID
Fizzy drinks, these can rob the body of calcium so weaken bones and also trigger hot flushes.
High levels of saturated fats
High sugar levels thee an cause mood fluctuations owing to the affect they have on your blood sugar levels in the body.
FEW MORE TIPS
When you are planning your meals always have some complex carbohydrate and protein ie your porridge oats for breakfast made with milk is ideal – watch any sugary addiitions though and consider using cinnamon and honey rather than sugar.
If you eat fruit ie an apple eat 5 – 7 almonds with it to counteract the blood sugar spike with the sugar in the fruit.
.
OLIVE OIL
In Greece, fossilised olive leaves have been found that date back between 50 and 60,000 years.
60% of cultivated land in Greece is used exclusively for Olive Growing
Greece = 3rd largest exporter of olive oil, she even exports to Italy where they mix it into their own olive oil and it gets sold on as Italian.
Healthy Fat
Not all fats were created equal, and olive oil is among the healthiest known oils. It's a central part of the so-called "Greek paradox" (i.e., people who follow a Mediterranean diet that's high in fats have low levels of cardiovascular disease and obesity).
You've probably heard about the health benefits of fish oil. Extra-virgin olive oil contains the same omega-3 fatty acids associated with everything from lowering blood fat (a primary risk for heart disease) to decreasing joint pain in people with arthritis. You can even triple your intake of omega-3s by cooking fish in extra-virgin olive oil.
Why you should NEVER follow a NO Fat diet?
Consuming Greek olive oil regularly has been shown to
· help maintain body weight and improve blood sugar and insulin control;.
· Olive oil is loaded with high-density lipids, or HDL, the "good" kind of cholesterol.
· Olive oil is highest in mono-unsaturated fat, this is the kind of fat that doesn't oxidise in the body and cause the body to age.

Natural Anti-Inflammatory
Extra-virgin olive oil contains a natural chemical with special properties: the phytonutrient oleocanthal. Oleocanthal mimics the effects of ibuprofen, reducing inflammation. Doctors believe inflammation is associated with -- and may even be the root cause of -- everything from allergies and depression to heart disease and cancer. The oleocanthal in extra-virgin olive oil keeps inflammation from getting out of hand.

Extra Virgin vs. Virgin
We know that extra-virgin olive oil has some specific health benefits as well as a distinctive taste. But what does extra-virgin mean? Extra-virgin oil comes from the first pressing of the olives. They are always cold pressed, meaning no heat or chemicals are used to extract the final product. There are no additives or preservatives either.
The result? An unadulterated oil that retains its natural flavour or aroma.
Virgin olive oil comes from the second pressing and is of a lower quality.
Greece = 80 percent of production is extra virgin [EV]
Italy = 50 percent of production is EV
Spain = 30 percent of production is EV
Allegedly, Extra-virgin Greek olive oil is not only the purest variety of olive oil available, but has the richest flavour and aroma
DOES YOUR IMMUNITY NEED A BOOST??
Certain illness affects your immunity and can leave it lacking the fight and a little weak.
Rheumatoid and psoriatic arthritis are two such illness. This reduced immunity means that a simple cold can turn into a chest infection, a muscle twinge can last months with swelling and pain, what others fight of quickly lasts and lingers.
Inflammation is high in the body with both these forms of arthritis, it is caused because the antibodies produced by the body attack itself as opposed to just fighting infection.
Medication prescribed for such illness help manage the pain but leave the immunity very weak, so one thing you can do is ensure that your nutritional intake maximises the nutrients from the food you eat, so, it might be worth a bit of a food stock-take and some home truths to help you self manage your condition.
Your 5+ a day portions of fruit and veg needs to become far more than this, originally the advice was to have 7-9 a day but it was felt by some that this was not achievable when the averages in Northern Europe fall well short of this recommendation. In fact consider this key information when deciding which lifestyle or food diet to follow;-
In the UK Britons east 258g of fruit and vegetables per day compared with a European Average of 386g [ and this is higher still in Greece – hence my love of the Greek Diet]
So you can guess from this what the first thing is you are going to do;-
Up your fruit and vegetable intake

Concentrate on your vegetable green leafy and ensure it is there every day in one form or another

include garlic and onions

Boost also by using any cooking liquid and make into a vegetable broth to capture every last bit of goodness.
Concentrate on including foods which include the following vitamins and minerals as these are known to have the biggest influence on our immune system, these are;-
Vitamins A, C, D and E

Zinc – helps viruses enter the body

Selenium – acts like a sponge mopping up the free radicals caused by infection once in the body

iron

copper
Some of these help protect the nasal and mouth lining which in turn can prevent nasties entering the body. Others such as a vitamin D rich yoghurt will help to keep the gut bacteria healthy and in turn help with the fighting of illness.
You can see that if you are suffering from any of these immune depleting illnesses one of the worst things you can do is to cut all healthy fats out of your diet, Avocado is a great source of Vitamin E, yet left out of diets owing to its high fat content. This healthy fat along with olive oil is integral to keeping you healthy. Like anything its important to vary your diet, unprocess your diet but not remove any food groups i.e. dairy free, wheat free unless you have a medical need to do so that has been confirmed.
Have a read of my blog to catch up on my recent foodie adventures!.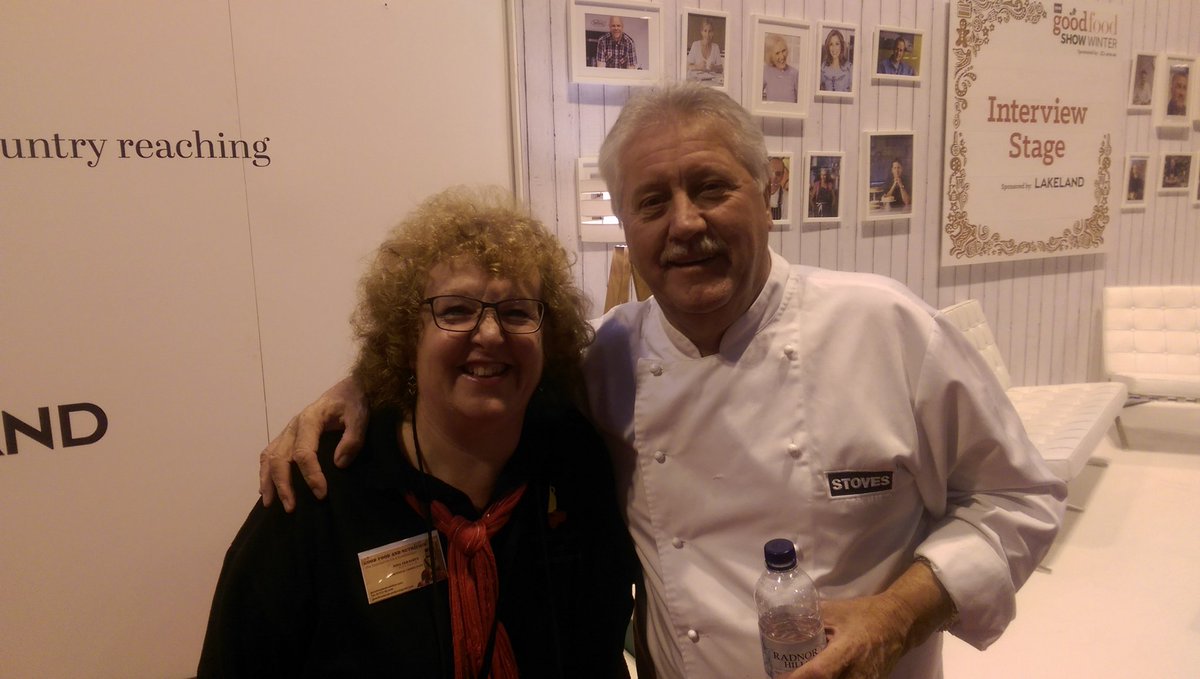 BBC Radio Shropshire - Invited to be the guest on their Food Programme, where I spent the hour promoting local and seasonal foods, sharing ideas and recipes to get you cooking.
Thank you to all the people who took part in my Mediterranean Masterclasses at Ludlow Food Festival, we had a great time, lots of nutrition tips, cookery ideas and you all had the opportunity to cook with me and create the dishes to eat and enjoy.