Latest Nutrition/Food News
A reminder that this list doesn't try and cover everything but a selection along with some alternative inspirational ways of using them rather than the normal steam, boil, bake...Feel free to contact me via goodfoodandnutrition@gmail.com or Twitter @Ninanutrition, with your ideas, I will try then and then if I use them in future editions I will credit you accordingly. You can also check out my foodie travels by visiting my travelogue www.ninageraghty.wordpress.com
JULY FOODS IN SEASON
JULY – Seasonal foods – looking forward to the Summer
All of a sudden it appears to be an exciting time for the Mediterranean influenced vegetables, opening up so many different possibilities for your recipe repertoire. Whether you grow your own or buy from your local producer, enjoy.
Apricots– Normally by now I would have spent a couple of weeks in Greece, sadly not to be this year however I will just have to remind myself of the time when I was able to pick the ripe apricots directly from the trees in the garden where we stayed. Despite note doing it this year the memory of them being full of flavour lingers on in fact when you get the opportunity, I can recommend them when they are just so fresh and warm in the sunshine.
Aubergine– another favourite of this time of year. You know that you don't need to salt this delicious vegetable. All you need to do is slice it lengthways, drizzle with a little oil and place on a baking tray and cook for approx. 10 mins till it starts to soften. Then use either in your moussaka or on its own baked with a cinnamon tomato sauce – there is a recipe on my recipe pages that you can use for this. Also, you will find that cumin and mint work incredibly well with the flavour of aubergine. This really is a versatile vegetable and can be stuffed, grilled, baked, sliced dipped in flour and fried – often a popular starter in a Greek Taverna. If you are really overrun by aubergine, then consider using one for a dip, mash a cooked aubergine with yoghurt, mint, garlic and cumin then enjoy......
Beetroot – don't just use as a vegetable but use in your chocolate cake recipes, it adds an earthy yet sweet taste and keeps the cake moist. It became quite popular with the lower calorie recipes, yet how very healthy. I do find that when I cook beetroot and I have been known to throw some in the slow cooker with water to cook it, although it does lose some extra colour I find doing it this way, however if you are short of time this may be an option. When you come to peel it remember to pop those rubber gloves on otherwise it can look like a murder has been committed.
Blackcurrants and Redcurrants, - mine are just ripening now and I am fighting off the blackbirds who also seem to adore them. Blackcurrants contain some of the highest levels of antioxidants, you can cook then really quickly with just a spoonful of sugar and a splash of [ 15g of sugar per 100g of fruit] to soften them then spoon over your favourite ice cream.....Or top off your cheesecake with this mixture, remember not to add too much water though to protect the consistency.
You can also just mix redcurrants with a thick natural yoghurt, drizzle a little honey over and enjoy.
Obviously if you have other summer fruits to hand you could make a delicious summer pudding with some home- made left over bread. Serve with clotted or ice cream for a rather decadent dessert.
Chicory– still in season and delicious with cured hams or pork. Cook simply as I have described before, poach to soften, then cover with a cheese sauce and bake in the oven until lightly browned.
Courgettes – another versatile one, you can bake, stuff, fry, grill, barbecue, sauté.... in-fact you name it you can cook it in that way. I rather like gratin courgettes, covered with either a cheese sauce or simply Greek 0% fat yoghurt and some parmesan. Otherwise I stuff them with sun dried tomatoes, almond, spring onions or chives and some feta – recipe on my recipe of the day page.
It's strange but courgettes grow very well in the UK climate, I grew some last year in a pot on the patio and was so excited when I was able to go out and pick and then cook them!
Cucumber– a very good edition to the salad plate, however don't just leave it at that. Use cucumber in your Tzatziki dips, grater and then squeeze out the excess water, chop a handful of mint and mix with a thick Greek yoghurt and a tad of garlic. Leave to infuse, mix well again just before serving and use with many kebabs, or as a filling for a jacket potato.
Fennel– usually an accompaniment to fish owing to its slightly aniseed flavouring. Always pick a hard and white one with the dark green fern type leaves attached if possible. Slice thinly you can use the white body of fennel raw in a salad, often you seen fennel and orange salad, slight middle eastern feel about it. My favourite way is to quarter the white fennel, drizzle with olive oil and bake till softened then serve to accompany a plain grilled or barbecued meat.
Peppers– wow one of my favourites and such a power house of antioxidants for the body. However, you chose to eat these, be it raw or cooked, they will add a further nutritional dimension to your dishes.
Celery -don't just use it to shovel dips onto!!!!! Be more imaginative, braise in a little water and olive oil, then use the liquid thickened with cornflour, grainy mustard and parmesan to make a delicious sauce to pour over it. sprinkle with a little polenta and then bake to finish off in the oven until the top is crispy and browned.
Jersey Royal or Cornish New potatoes– need nothing more than a slight dribble of pure salted butter and sometimes a touch of chopped fresh mint. When they are this fresh you need to savour the flavour. If you do fancy making a potato salad with a difference take your cooked potatoes and add half fat crème fraiche, finely chopped red chilli [ watch the seeds they are the hottest part] and a squeeze of lemon, coat the potatoes while they are warm the either eat immediately or pack up and take a on a picnic - they will do a good disappearing act quickly. Another idea is a tray bake, onions, courgette, new potatoes and a drizzle of olive oil, smattering of garlic chopped and bake until the potatoes are cooked and slightly crispy. Serve with salad, grilled poultry or pork.
Lettuce -you will start to see all types become available now but try a different one, Lambs lettuce - these small leaves pack a punch they are dark green and have a slightly bitter edge to them, try and eat them as fresh as possible because they increase in bitterness after a couple of days. Ideally grow your own.
Mange Tout- OK peas in shells!!!! ideal in stir fry or just stir fried on their own in sesame oil and then when cooked a teaspoon of flaked almonds shaken through them
Rocket- lovely peppery taste, ideal in your beef and horseradish sandwiches This is a great source of iron and makes a change to incorporate it into your lunchtime salad or butty.
Spinach I love to incorporate spinach into many highly flavoured dishes to give a different texture and a good dose of iron and vitamins.
Spring Greens don't be put off when I tell you that these are the first cabbages of the year! But they are great you can use all the leaves and there is no heart to cut out or wonder what to do with. Try these in a stir fry with a drizzle of sesame oil, I bet the hardiest of green haters will succumb and maybe even admit to liking this dish
Spring onions –instead of using raw, slice thinly into rings, mix with 4 sun-dried tomatoes which you will have chopped, 25g roasted sliced almonds, 25g crumbled feta and use to stuff [ well place on] your large mushrooms. This also works in the summer on courgette
Tomatoes- just starting to come into their own, if you are a green-house owner, if not hard luck buy them from someone that is.
Watercress –should always come from fresh, flowing water, never from still water. It is related to mustard, coupled with its peppery flavour its certainly gives a warm glow when you eat it. You can use all of stems rather like bean sprouts, so in stir fries. Whilst the leaves add flavour and nutrients to any salad. As a filling with either beef and horseradish or egg mayonnaise to enhance your sandwiches. Watercress is a real nutrient dense food, it is packed with Vitamins A and K, perfect for keeping bones healthy and eyes, helps keep the cardiovascular system healthy and its packed with antioxidants.
Herbs include
Mint- use with any lamb dish, or chopped into couscous to flavour. There are some ideas on my recipes for the month...... check those out
Sorrel when added to a plain white sauce, makes a perfect accompaniment to a fish dish so cook one of the white fish that are in season simply, then serve and pour this sauce over. A popular herb in France but not so often used in the UK. In fact it is often big leaved enough to be used where you would use spinach in our recipe, give it a try.
Fish includes quite a selection of white fish, for you to simply cook then add sauce too if you wish.
Cod
Plaice - do you know how to check this is at its freshest???? the older it is. The orange spots should be really vivid and bright they fade as the fish ages. A very delicate fish, doesn't really need more than pan-frying, grilling or baking. However you cook it leave the skin on as it cooks because it goes really crispy and adds texture and holds the fish together, having said that always cook it skin side down till the skin goes crispy. Remove the skin when cooked it is easier, I find.
Monkfish
Seabass - The fresher the better, just fillet, dust in flour and fry in butter with a sprinkle of black pepper, cook for a couple of mins each side - delicate flavoured white meat now awaits just plain boiled jersey royal and a few sprinkles of broccoli
Crab I know everyone thinks of dressed crab and crab meat, but the poorer relation is the leg meat If you are lucky enough to live near the sea, you will possibly find a fisherman who is keen to hand these over to you. In Budleigh Salterton I was lucky enough to buy from the beach stall of the local fishing boat some delightful sea bass and when he knew it was my birthday he gave me some crab legs. Just bring a large pot of salted water to the boil throw in the crab legs and boil for up to 10 mins dependant on the thickness of them. Drain, remove the meat from the shell and either mix with a little melted butter or mayonnaise and this meat is stunning served on toasted wholegrain bread as a treat. It is a little fiddly but the flavour is well worth it, especially when its so very fresh.
Scallops –quick cooking delicious if slightly expensive fish. Heat your fry pan until the butter in it is hot, add the scallops gently not allowing them to touch each other. Cook for up to 2 mins per side they should have a golden crust each side and the middle slightly translucent. Serve with a slice of lemon and pour the seasoned butter over them........

Sea trout -Sea trout can be used whenever and however you would use salmon. It is often a thinner fish fillet and cooks quickly but it is delicate with a slightly different flavour.
Wild salmon from now till September wild salmon is available - again a very quick easy meal , it cooks in around 20 mins you can cook it in the oven and serve plain with veg, add a sauce [ watercress, pesto, chill etc.] , you can stir fry it add noodles or pasta. Mix it cooked with lemon and yoghurt for a sandwich filling or to add to a salad
Meat includes
Lamb Whatever you do please choose British Lamb, you will not only be helping your local producer but its worth knowing that there are no growth promoting hormones used in the UK and for Lamb the only antibiotics used are only administered under veterinary direction.
contrary to what you may think Lamb is still very much around, the longer growing season and demand means that it is almost available till the last months of the year. In fact it is known as Autumn lamb from Summer until December. From Christmas to Spring it is called Hoggett which means it is up to 2 years old so has developed a more pronounced flavour making it ideal for a slow cooked casserole with some root veg. For a special occasion use a leg of lamb, spike with rosemary and garlic, drizzled with oil or butter and cook in the oven, the smell will drive you mad. For a cheaper cut try my lamb hot pot recipe with a twist on my recipe pages.
Incidentally a more old fashioned term Mutton is in season between October and March, this slightly gamy tasting meat comes from an animal that is over 2 years old.
Gooseberries- either red or green are starting to be available. They make the most delicious Jelly to pot and serve with cold or roast meats instead of redcurrant. Of course another crumblers heaven dish. If you are lucky enough to have a red gooseberry I am told they are sweeter and take less sugar. They also have good natural pectin which makes it easier to set when jam and jelly making
Rhubarb some early forced rhubarb will be ready around mid month, this is delicious lightly poached with some sweetener of choice and then crumble topping. I like to do this in small ramekin dishes and serve with custard alongside. Or just make a good old fashioned bowl full and tuck in. Of course you can also make jam, jelly or chutney if the mood takes you. This is a good way to use it. If you search through your cookery books you will find all sorts of ideas of how to use it.
Strawberries and Raspberries - power houses of nutrients when freshly picked and eaten. They really need no messing about with they give you the easiest desserts at this time of year. One idea I do like to do is to take 25g of rolled oats, 1 pot of Greek 0% fat yoghurt some chopped raspberries and strawberries and mix together, spoon into tall glasses and a a drizzle of Greek honey then serve chilled with a sprig of mint - yummy!
Some interesting nutritional articles to give you "food for thought"!
.
OLIVE OIL
In Greece, fossilised olive leaves have been found that date back between 50 and 60,000 years.
60% of cultivated land in Greece is used exclusively for Olive Growing
Greece = 3rd largest exporter of olive oil, she even exports to Italy where they mix it into their own olive oil and it gets sold on as Italian.
Healthy Fat
Not all fats were created equal, and olive oil is among the healthiest known oils. It's a central part of the so-called "Greek paradox" (i.e., people who follow a Mediterranean diet that's high in fats have low levels of cardiovascular disease and obesity).
You've probably heard about the health benefits of fish oil. Extra-virgin olive oil contains the same omega-3 fatty acids associated with everything from lowering blood fat (a primary risk for heart disease) to decreasing joint pain in people with arthritis. You can even triple your intake of omega-3s by cooking fish in extra-virgin olive oil.
Why you should NEVER follow a NO Fat diet?
Consuming Greek olive oil regularly has been shown to
· help maintain body weight and improve blood sugar and insulin control;.
· Olive oil is loaded with high-density lipids, or HDL, the "good" kind of cholesterol.
· Olive oil is highest in mono-unsaturated fat, this is the kind of fat that doesn't oxidise in the body and cause the body to age.

Natural Anti-Inflammatory
Extra-virgin olive oil contains a natural chemical with special properties: the phytonutrient oleocanthal. Oleocanthal mimics the effects of ibuprofen, reducing inflammation. Doctors believe inflammation is associated with -- and may even be the root cause of -- everything from allergies and depression to heart disease and cancer. The oleocanthal in extra-virgin olive oil keeps inflammation from getting out of hand.

Extra Virgin vs. Virgin
We know that extra-virgin olive oil has some specific health benefits as well as a distinctive taste. But what does extra-virgin mean? Extra-virgin oil comes from the first pressing of the olives. They are always cold pressed, meaning no heat or chemicals are used to extract the final product. There are no additives or preservatives either.
The result? An unadulterated oil that retains its natural flavour or aroma.
Virgin olive oil comes from the second pressing and is of a lower quality.
Greece = 80 percent of production is extra virgin [EV]
Italy = 50 percent of production is EV
Spain = 30 percent of production is EV
Allegedly, Extra-virgin Greek olive oil is not only the purest variety of olive oil available, but has the richest flavour and aroma
Beneficial Food Facts you might not be aware of!
There is often trivia published on many subjects so here are some of my foodie facts which you can then incorporate in your cookery or perhaps you do already but without being fully aware of the benefits
Sweet Potato - full of Vitamin A, Retinol which is great for healthy eyes, also a good immunity system and skin
White Cabbage - good source of folate
Dates - a good substitute for sugar and syrups in recipes [ you need to purée with apple juice] but also good source of iron
Add Linseed and you are adding omega 3 healthy oils to your diet
Cinnamon, good to regulate blood sugar but also antibacterial properties
Sage, contains many antioxidants but also has anti inflammatory properties
Spelt - if you come to any of my talks I include this a lot, whilst it is not gluten free people who cant tolerate wheat can often digest and tolerate spelt. It is also higher in protein and many minerals than other grains.
Mussels are high in zinc and help to boost immunity
Ginger is a good one to boost circulation, decrease inflammation and help with travel sickness.
Cumin aids digestion
Cannelini beans contain B vitamins to boost metabolism
Leeks are rich in vitamin K.
Porcini mushrooms rich in Niacin, which helps cholesterol levels improve.
DOES YOUR IMMUNITY NEED A BOOST??
Certain illness affects your immunity and can leave it lacking the fight and a little weak.
Rheumatoid and psoriatic arthritis are two such illness. This reduced immunity means that a simple cold can turn into a chest infection, a muscle twinge can last months with swelling and pain, what others fight of quickly lasts and lingers.
Inflammation is high in the body with both these forms of arthritis, it is caused because the antibodies produced by the body attack itself as opposed to just fighting infection.
Medication prescribed for such illness help manage the pain but leave the immunity very weak, so one thing you can do is ensure that your nutritional intake maximises the nutrients from the food you eat, so, it might be worth a bit of a food stock-take and some home truths to help you self manage your condition.
Your 5+ a day portions of fruit and veg needs to become far more than this, originally the advice was to have 7-9 a day but it was felt by some that this was not achievable when the averages in Northern Europe fall well short of this recommendation. In fact consider this key information when deciding which lifestyle or food diet to follow;-
In the UK Britons east 258g of fruit and vegetables per day compared with a European Average of 386g [ and this is higher still in Greece – hence my love of the Greek Diet]
So you can guess from this what the first thing is you are going to do;-
Up your fruit and vegetable intake

Concentrate on your vegetable green leafy and ensure it is there every day in one form or another

include garlic and onions

Boost also by using any cooking liquid and make into a vegetable broth to capture every last bit of goodness.
Concentrate on including foods which include the following vitamins and minerals as these are known to have the biggest influence on our immune system, these are;-
Vitamins A, C, D and E

Zinc – helps viruses enter the body

Selenium – acts like a sponge mopping up the free radicals caused by infection once in the body

iron

copper
Some of these help protect the nasal and mouth lining which in turn can prevent nasties entering the body. Others such as a vitamin D rich yoghurt will help to keep the gut bacteria healthy and in turn help with the fighting of illness.
You can see that if you are suffering from any of these immune depleting illnesses one of the worst things you can do is to cut all healthy fats out of your diet, Avocado is a great source of Vitamin E, yet left out of diets owing to its high fat content. This healthy fat along with olive oil is integral to keeping you healthy. Like anything its important to vary your diet, unprocess your diet but not remove any food groups i.e. dairy free, wheat free unless you have a medical need to do so that has been confirmed.
KEEPING HYDRATED
Around 50% of a woman's body and 60% of a man's body is made of water. Water is needed by every single cell in your body to help it function properly, to keep healthy you need to drink 6 – 8 glasses [each being 225ml or 8fl oz in old money!] of water every day. In hot weather or if you exercise this amount needs to be increased.
Not drinking enough water can result in;-
feeling tired

dry eyes

headaches

dry mouth

difficulty concentrating.
Drinking enough water also gives many positive health benefits including;-
fewer cases of kidney stones

lower risk of colon cancer

not as many urinary tract infections

lower risk of urinary cancer

less chance of constipation
So as you can see there are many reasons to drink enough water. In addition to the above water also;-
controls body temperature

assists with weight control

gives you energy

transports nutrients and waste in and out of cells

stops dehydration

keeps digestive processes healthy
For Children, they are less likely to feel a need to drink, this is because the mechanism in their body which alerts them to being thirsty doesn't fully form until they are a little older. So especially during hot weather, when they also don't perspire as much as adults do, this means their bodies do not control their temperature. So it is important that they are encouraged to drink water especially during and after exercise to prevent heatstroke and dehydration.
A good tip for anyone is to carry a bottle of water, not only is it on hand then but it is measured so you know exactly how much you are drinking.
On the adverse side of the coin, excess drinking of water can result in the body losing nutritional salts which in turn cause a confused state to set in. This is often prevalent in the elderly and can be mistaken for the early onset of dementia.
Some recent donations
From my talks over the last few months I have been able to support the following charities
Blood Bikes £100, Gnosall First Responders £100, Pensioners Presents in the village at Christmas £150, Lions Club £100 - A Grand total to date of £450 from my Food and Nutrition Talks.
Handing over a £100 donation, from some talks and masterclasses I have delivered in the last months at Good Food and Nutrition, to the Staffordshire and Shropshire Blood Bikes to help keep the wheels turning throughout the year. Volunteers do a sterling job, spending many hours transporting life saving blood, breast milk and other medical supplies to our hospitals across Staffordshire and Shropshire. and supporting our hospitals in Staffs and Shropshire including a little bit of Cheshire and the borderland of Wales too.

Have a read of my blog to catch up on my recent foodie adventures!.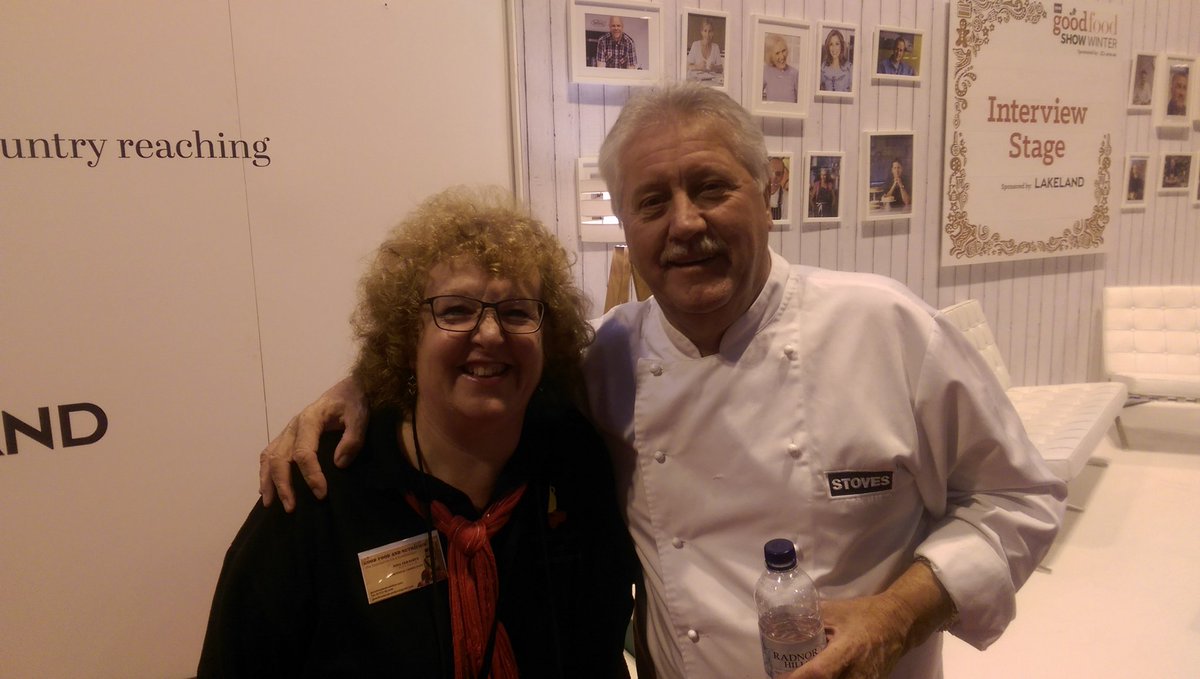 BBC Radio Shropshire - Invited to be the guest on their Food Programme, where I spent the hour promoting local and seasonal foods, sharing ideas and recipes to get you cooking.
Thank you to all the people who took part in my Mediterranean Masterclasses at Ludlow Food Festival, we had a great time, lots of nutrition tips, cookery ideas and you all had the opportunity to cook with me and create the dishes to eat and enjoy.